Are These British Museum Face Swaps The Creepiest Yet?
18 April 2016, 17:53 | Updated: 25 April 2016, 13:21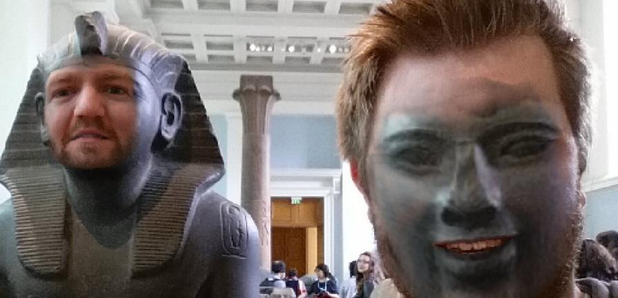 See historical artefacts like you've never seen them before...
Since Face Swap landed, absolutely everyone and their dog has been swapping faces, with everything from babies to their own body parts.
But when imgur user JakeMarshall91 took a trip to the British Museum, he took the game to a whole new level.
Swapping his face with everything from Roman British Emperors to Egyptian Pharaohs, Marshall manages to give us a history lesson and creep us all out at the same time.
Scroll through his pics below:
So I went to a museum...
According to the Daily Mail, Marshall from Norwich was visiting the museum in London when he decided to swap his face with various artefacts.
He said of all the attention: "The reaction was definitely not expected. I posted this privately to my Facebook and it went down well, but decided to post to Reddit and it has kind of blown up far more than expected!
"The reaction to this has been mixed to say the least. The majority seemed to enjoy them, but then there has, as always, been those quick to criticise."
He added: "'I guess it shows either how good technology has become, or how good the sculptors' work was."
Is it better than face swapping with your own nipple though?
Picture: Imgur/JakeMarshal91