WATCH: Alex Turner Grabs Fan's Phone During The Last Shadow Puppets Gig
5 April 2016, 14:00 | Updated: 5 April 2016, 14:38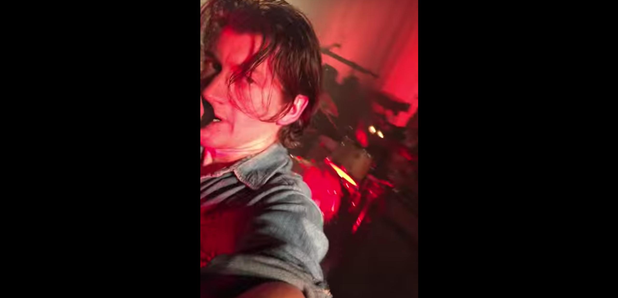 A fan got more than she bargained for when took her phone out at the Liverpool Olympia.
Most rock stars aren't overly impressed by people filming their gigs instead of enjoying the moment, but it seems Alex Turner doesn't feel the same way.
Ashley Hazlehurst was filming The Last Shadow Puppets during their Liverpool Olympia gig, but the Arctic Monkeys frontman decided to go one further and grab it off her, before filming himself, Miles Kane and the rest of the band.
Watch the footage he took below:
We bet she won't be wanting to upgrade that handset for a while!
Previously, the band played a show at London's Hackney Empire on Friday, taking to Twitter to post their setlist after the gig.
Set list from Hackney Empire, London - 01/04/16 pic.twitter.com/6xLv3Cnuck

— TLSP (@tlsp) April 3, 2016
The duo - whose Everything You've Come To Expect album is set to reach UK No.1 this week - have added extra dates in Newcastle and Leicester - as well as adding additional tickets for London's Alexandra Palace.
Additional tickets released for Alexandra Palace, London - 15/7 - https://t.co/iRYNUxYsPj pic.twitter.com/ugy6yFRZLy

— TLSP (@tlsp) April 5, 2016
Picture: Ashley Hazlehurst