Alex Turner & Dave Grohl Team Up With 102 Artists For Planned Parenthood
18 April 2017, 17:26 | Updated: 18 April 2017, 17:29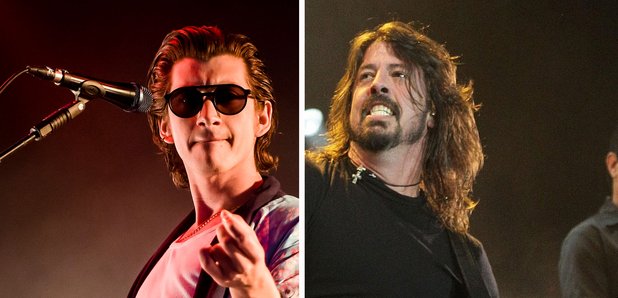 They've joined the likes of Florence Welch and R.E.M's Michael Stipe in signing a guitar to be raffled for the organisation.
The likes of Alex Turner and Dave Grohl have lent a hand to raising money for Planned Parenthood.
As Pitchfork reports, the Arctic Monkeys singer and Foo Fighters frontman are among 102 artists who have signed a guitar which is to be raffled off for the sexual health organisation.
Florence Welch, Lady Gaga and Michael Stipe have also penned their names on the Cox-donated Gibson CJ-165 acoustic guitar, which could be owned by a lucky member of the public.
Win a signed piece of music history! Donate $10 to support Planned Parenthood for your chance to win→ https://t.co/lNWmShtxzd #IStandWithPP pic.twitter.com/kqhmy2IJSG

— 7-Inches for PP (@7inchesforpp) April 17, 2017
To be in with a chance of winning music history, fans can donate $10 to the not-for-profit organisation.
Meanwhile, Foo Fighters have been announced alongside a host of artists for a Planned Parenthood vinyl compilation.
The series of vinyl singles, named 7" For Planned Parenthood will feature a variety of artists, musicians, writers and comedians and will be released in batches, before being sold as part of a boxset.
The organisation, which provides reproductive health care in the United States, wrote in a post on their special Facebook page: "Lawmakers with extreme views are working hard to shut down Planned Parenthood. If they succeed, millions of Americans will lose access to basic health services, including STD testing and treatment, birth control, and life-saving cancer screenings."
They continued: "7-inches for Planned Parenthood is a response to this threat. This curated series of 7-inch vinyl records is being made by a group of people who believe that access to health care is a public good that should be fiercely protected. Do we know there's a joke in the name? We do. We hope the title evokes the rich history of 7-inch vinyl records as a medium for protest music and resistance."
See their full post here: