WATCH: 104-Year-Old Man Becomes The Oldest Person To Get A Tattoo
8 April 2016, 12:57 | Updated: 25 April 2016, 13:24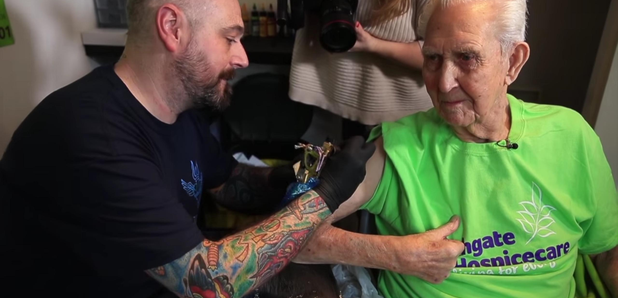 Jack Reynolds marked his birthday by getting inked for a good cause.
A 104-year-old man has become the oldest person to get a tattoo.
Jack Reynolds - who celebrated his birthday on 6 April - decided to mark the occasion by getting inked and breaking a world record in the process.
The great granddad - who also did the Ice Bucket Challenge at 102 - had his nickname, Jacko, tattooed on his right arm, along with his date of birth, 6. 4. 1912.
Watch the video report by SWNS TV below:
If that wasn't cool enough, Reynolds - who said the tattoo felt "quite nice" - raised loads of money for charity too!
Visit his Just Giving page to donate to the Ashgate Hospice here.
Watch Jacko do the ice bucket challenge two years ago at the age of 102 below:
And just in case you're wondering why that didn't seem to faze him, it's because he's been washing in cold water all his life.
His daughter explained: "He's lived through 2 world wars and had a very hard life in his early years with no hot water. To this day he still washes in cold water, probably the reason the iced water never concerned him.
She added: He's a very inspirational man, a whizz on an ipad and an avid user on facebook. He is so caring and considerate to all and I am so proud to say hes my dad!"
What. A. Legend.
Picture: Youtube/SWNS TV