WATCH: Tom Hanks Re-creates Rap From Big 28 Years Later
26 October 2016, 14:39 | Updated: 26 October 2016, 18:09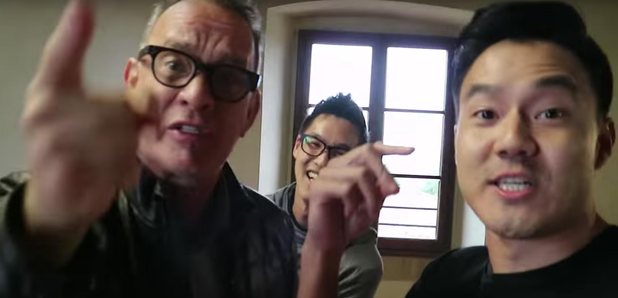 See the moment the Hollywood star reprised Shimmy Shimmy Cocoa Pop from the iconic 1988 film.
Anyone who grew up in the 80s remembers Tom Hanks' role in Big, where he plays 12-year-old Josh Baskin after he's transformed into a 30-year-old man.
And - aside from that awesome foot piano scene - the moment Baskin tries to convince his friend he's in a grown man's body by singing their secret song, goes down as one of the most memorable scenes of the entire film.
However, as it turns out the Shimmy Shimmy Cocoa Pop song isn't just memorable for us mere mortals, because even Tom Hanks can recite it 28 years later.
When super-fans and YouTubers, Wesley Chan and Philip Wang of Wong Fu Productions, met him with Ron Howard in Florence, they just couldn't help but ask him to sing the famous "rap," with them.
Naturally, Hanks obliged and proceeded to recite it word-for-word, while Ron Howard looked on in the background.
Watch them in action by skipping to about three minutes in below:
Now, we don't know about you, but we can barely remember what we had for breakfast, let alone something that happened 28 years ago.
Bravo Tom Hanks.
Watch the iconic moment from Big here:
Photo: YouTube/Wong Fu Productions