Jeremy Corbyn's High Five Was The Cringiest Moment Of 2017
30 December 2017, 13:32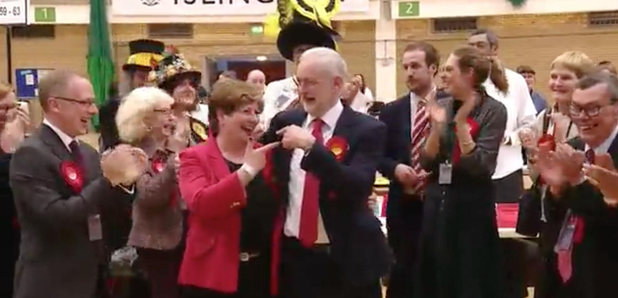 The Labour leader came a cropper when attempting to celebrate with Labour MP Emily Thornberry.
With the General Election and the ongoing Brexit negotiations,, it's fair to say that 2017 has been a pretty hectic year for UK politics.
Whatever side of the fence you sit on, we can all probably agree that one of the stand out moments of the election results came when a jubilant Jeremy Corbyn attempted to high-five Emily Thornberry at the Islington North count and found himself slapping her on the breast instead.
Watch a clip of the cringeworthy moment here:
And it wasn't lost on Twitter, who decided to comment on his unfortunate misplaced hand.
There are no words adequate to describe Jeremy Corbyn high-fiving Emily Thornberry's boob, so here: pic.twitter.com/vDYdos7OlU

— HannahJane Parkinson (@ladyhaja) June 9, 2017
TFW you risk it all for a high five and fall short pic.twitter.com/1klvBMEt84

— Big Cat (@BarstoolBigCat) June 9, 2017
As well as everything else, the Labour leader found time to pioneer a new kind of high-five pic.twitter.com/Wjjx93jpoq
(via @danhewittsky)

— Jeremy Vine (@theJeremyVine) June 9, 2017
The best high five in the history of high fives. pic.twitter.com/OEdvWnfBJK

— Sunday League (@SundayShoutsFC) June 9, 2017
While it's fair to say Corbyn made a bit of a tit of himself, but it makes for some pretty funny viewing.
So what have we learned from this? No politician, not even Jeremy Corbyn should ever attempt to get down with the kids. Ever.
We think he'll go back to giving stiff handshakes and pats on the back from now on.