This Football Team's Band-Inspired Posters Are Genius
24 November 2017, 13:46 | Updated: 24 November 2017, 14:01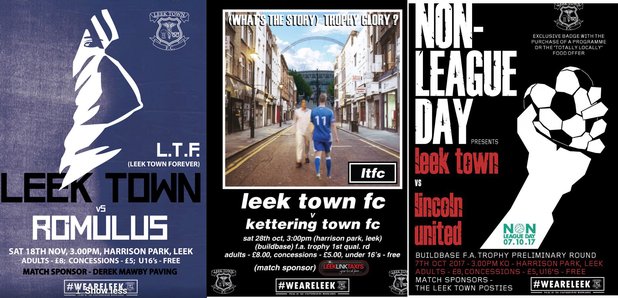 Leek Town FC are whipping up interest in their matches with some amazing spoof posters.
This is the best thing we've seen today…
Leek Town FC are a football team sitting in the Northern Premier League Division One South and one of their fans has been getting some attention for their fixtures by spoofing classic band posters.
Oasis, Kasabian, Green Day and even Pink Floyd have all got the treatment. Fan Paul Buxton mocks up the images for each match and there's a relevant playlist for the team, too.
The latest is the classic Joy Division Unknown Pleasures logo…
Next up

NPL South
v @StamfordAFC1896
Sat 25Nov17
KO 3:00pm
@leektown Harrison Park ST13 8LD
Prices £8/£5#WEARELEEK pic.twitter.com/Hoznh3NUF6

— Leek Town FC (@leektown) November 22, 2017
While, the legendary sleeve to (What's The Story) Morning Glory by Oasis also gets the Leek Town treatment, complete with Manc hits matchday playlist...
Our guest playlist courtesy of DJ @davereidy - all things Manc
Oasis, Roses, Inspirals, New Order, Buzzcocks, Smiths, James, Mondays, Doves pic.twitter.com/1px48tBvRd

— Leek Town FC (@leektown) October 24, 2017
And then there's early Kasabian...
Tough playlist theme tomorrow - LSF by @KasabianHQ is the poster so all things lost & found - very eclectic, music kicks in at 1:30 #WEARELEEK pic.twitter.com/6Iqj2A0VnJ

— Leek Town FC (@leektown) November 18, 2017
This one is a bit subtler, taking off Pink Floyd's The Wall…
November 3, 2017
Or how about Green Day's American Idiot?
As we have a @GreenDay poster today playlist can only be a selection of pop punk classics - tunes from 1pm - some guilty pleasures in there pic.twitter.com/9xMJ1TWM3K

— Leek Town FC (@leektown) October 7, 2017
This one is perfect:
Anarchy in the LEEK - maybe a bit strong, but some raucous support wouldn't go amiss #WEARELEEK pic.twitter.com/2dlA8Cl1Zc

— Leek Town FC (@leektown) August 15, 2017
And it's not just music - classic movie posters are also game...
It's matchday- blow the cobwebs away with @leektown vs @Basfordutdfc ...monster, monster pic.twitter.com/3qXz96j0Ln

— Leek Town FC (@leektown) January 21, 2017

Buxton told the BBC that the posters have increased attendance at the ground by about 12%! Good work.