Everyone's Laughing At This Statue Of Ronaldo...
29 March 2017, 16:23 | Updated: 29 March 2017, 17:02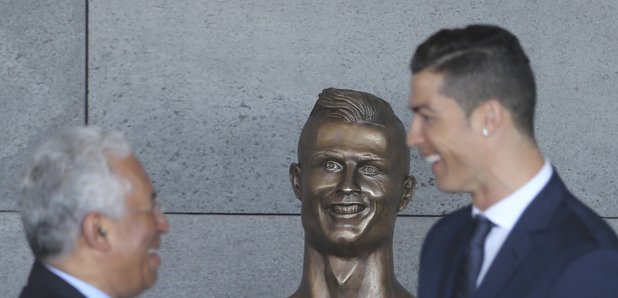 The footballer was presented with the statue at a renaming ceremony in Madeira airport.
Cristiano Ronaldo was presented with a questionable statue of himself in Portugal today and its ruffled a few feathers.
The Portuguese footballer was honoured at Portugal's newly rebranded Madeira airport, which is now named Aeroporto Cristiano Ronaldo, but he was upstaged by a questionable looking statue.
Naturally the bust hit more of a bum note, with people comparing it to everything from the Art Attack man puppet to a that dodgy Ecce Homo restoration.
See the best reactions to the statue here:
that ronaldo bust is the bronze equivalent of the famous "ecce homo" restoration of a few years back pic.twitter.com/NGsCMascv1

— Ken Early (@kenearlys) March 29, 2017
Knew Ronaldo's Airport statue reminded me of someone.. pic.twitter.com/e8yI9vj4w5

— SportsDictator (@SportDictatorHQ) March 29, 2017
When you send the statue guy a picture of Niall Quinn instead of Cristiano Ronaldo #Awkward pic.twitter.com/0VR8qPskVF

— Dan Walker (@mrdanwalker) March 29, 2017
The Cristiano Ronaldo bust at the airport carrying his name. This is Art Attack... pic.twitter.com/tTVmQBMgms

— Simon Peach (@SimonPeach) March 29, 2017
And just in case you've forgotten, this was the blind woman from Lionel Richie's Hello video:
Wonder if this girl made the new Cristiano Ronaldo statue pic.twitter.com/g7a34TP0bI

— The Football Pink (@TheFootballPink) March 29, 2017
This joker thought it was spot on though:
The Ronaldo statue is spot on. pic.twitter.com/Vtme83aVUU

— Not Match of the Day (@NOT_MOTD) March 29, 2017
Bravo guys. Bravo.