This "Official Bachelor" Card Was Given To A Woman In A Bar
17 October 2016, 12:18 | Updated: 17 October 2016, 16:18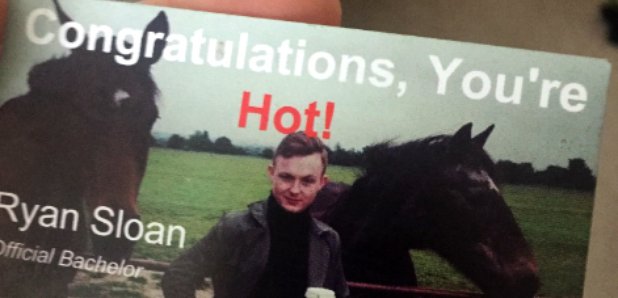 "Congratulations, you're hot!" says this cringeworthy "business card" that's doing the rounds around a local Wetherspoons…
With so many online and app-based dating sites, it's a hell of a lot easier to connect with someone who takes your fancy these days.
But that's not stopped one chap from actually getting cards printed up to give out to women who catch his eye when he's on a night out.
Ruby Sears from Stevenage shared a couple of pics last weekend, showing a business card she was given by an "official bachelor" while she was in the local Wetherspoons.
how can I get given this in wethers pic.twitter.com/5r4ayb8dSr

— rubyXo (@ryjsr) October 15, 2016
It really is a masterpiece of awfulness, from the salutation "Congratulations, you're hot!", a bizarre photo of the guy with a horse and a deeply inspirational quote from that paragon of femininity, Katy Perry: "If you're presenting yourself with confidence, you can pull off pretty much anything."
The card also comments: "If you are a recipient of this card, it means you have intrigued me and I would like to move it further."
Ruby claims that she always attracts "the weird ones".
Needless to say, this gambit did not lead to a romantic assignation.