WATCH: Remember When Meat Loaf Mugged Stephen Fry?
27 September 2017, 11:12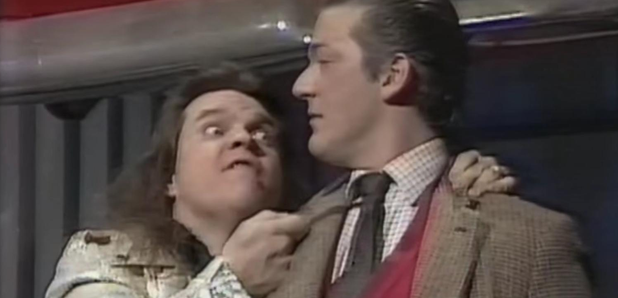 Meat Loaf? As a street punk? Mugging a mild mannered Stephen Fry? IT HAPPENED. Well, in jest, anyway.
You'll have heard of Saturday Night Live in the US, but do you remember the UK's version Friday/Saturday Live?
Running between 1985 and 1988, the Channel 4 series showcased the best of the country's "alternative" comedians such as Rik Mayall and Ade Edmondson and made a star of Ben Elton, who made his name as a stand up with his politically-charged monologues.
The show also gave airtime to the duo of Stephen Fry and Hugh Laurie, the former before his rise to Twitter sage and National Treasure as the host of QI and the latter before he headed off to Hollywood to play House.
But do you remember the first episode of the second series, when the musical guest was Bat Out Of Hell superstar Meat Loaf? The singer also starred in a sketch with our own Stephen Fry, in which Meat played a hoodlum mugging Fry's tweedy Englishman.
It's BRILLIANT and plays up to the strengths of both actors... right up to the excellent punchline.
Watch the clip, which was uploaded by VHS Video Vault, above.