Joker Sells A "Slice of pre-Brexit Britain" On Facebook
22 November 2016, 15:29 | Updated: 22 November 2016, 15:55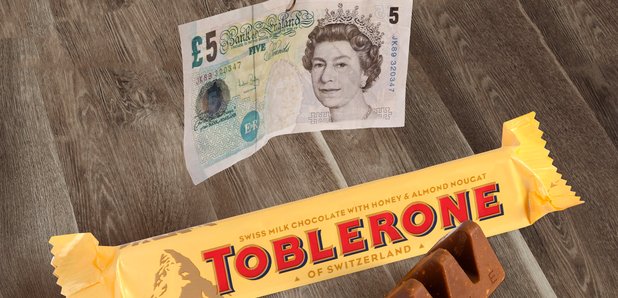 This user's genius listing comes complete with a "nostalgic Toblerone bar".
Despite article 50 not being triggered yet, the effects of Brexit have already started taking hold.
First Tesco threatened to stop selling Marmite over the prices being hiked, then Toblerone unveiled their new-look chocolate bar, which involved placing extra space between their famous peaks.
While they may now be perfect for holding all a manner of devices, they've obviously ruined the magic of the peaks in the first place.
The new Toblerone makes for a nice device stand pic.twitter.com/T1okTEo9fP

— Alolan Nyarth (@nyarth) November 10, 2016
Nothing will ever be the same again.
But Joe Wright is offering the chance to go back in time by offering a "slice of pre-Brexit Britain" on Facebook's Market Place.
Naturally, that "slice" comes in the form of an old fiver and some chocolate.
See it here: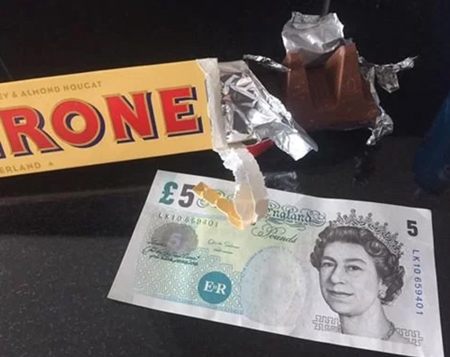 We're not sure if a £5 note actually has anything to do with leaving the EU, but we'll take it anyway!
Photo: Facebook Marketplace/Joe Wright
Joe writes in his description: "Grab a slice of pre-Brexit Britain with one of the newest old £5 notes (released crisp from a Tesco self-service machine after the introduction of the new £5 note) and a retro Toblerone bar with nostalgic small gaps between the Swiss chocolate peaks - note that it is in used condition as it was in the Christmas chocolate stock pile but somebody got a little peckish - however due to the crazy 2016 that we are experiencing, it still matches the 150g you would pick up in stores today as this in-date bar weighed an astonishing 170g back in the good ol' days.
He concludes: "Please note that the serial no. of the vintage £5 starts with LK which is particularly significant if you live in Sri Lanka."
Bravo.
Speaking to the Metro, Joe explained: "I did keep the old £5 when the new one was released because I thought it won't be around forever. And I found some Toblerone and thought, that won't be around forever either.
'I've seen fivers go up for a grand, so I thought I'd take the piss."