Dentist Installs "Where's Wally" Picture On Ceiling
5 March 2017, 06:00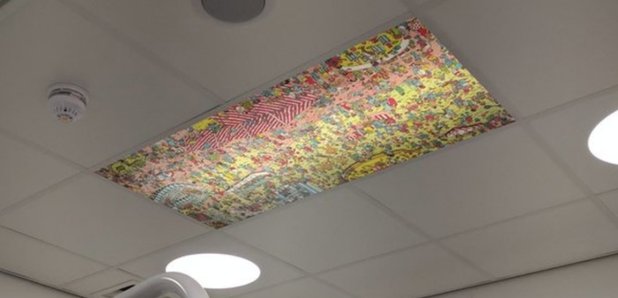 This ingenious move means you have something to take your mind off having those nasty fillings.
A dentist has installed a Where's Wally? picture into his ceiling to entertain patients and keep them calm before their procedures.
If you frequent the MyDentist surgery in Rugeley, Staffordshire, you can now enjoy a classic game of Where's Wally.
The kids' favourite books have a number of detailed images in which the reader is tasked with finding one man in a striped shirt.
The dentists hope the challenge will take patients' minds off the unpleasant procedure taking place inside their mouths.
Reddit user Michael Mannion posted the brilliant piece of artwork, entitled "Fairground"…. and it appears his dentist isn't the only one to use this trick.
Users from Crawley, South London, and Belshill, Scotland, revealed that their dental surgeries had also taken images from the popular book series to place on their ceilings.
Speaking to the Huffington Post, Michael said: "The poster was probably put up for children specifically, but I know it would calm me down and distract me no matter what age I was.
"They only have one room for examinations, so all patients will see it."
The question is, can you stop yourself shouting "There's Wally!" when you spot the bespectacled chap? Could cause a nasty moment…