"Being Right Sucks" The Simpsons Updates Blackboard To Reflect Trump Win
14 November 2016, 14:36 | Updated: 14 November 2016, 14:38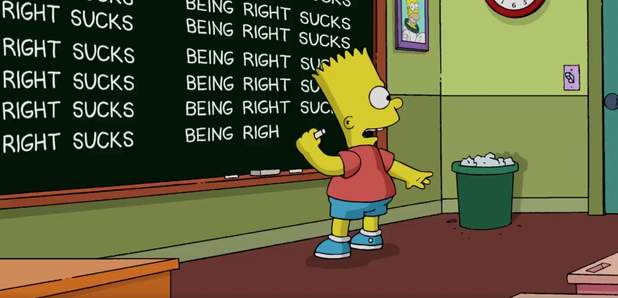 The animated series made reference to their 2000 prediction of a Trump Presidency.
Since Donald Trump was elected as President of the United States, people have been quick to look back on on The Simpsons' Bart To The Future episode, which predicted the shocking outcome 16 years ago.
Now, The Simpsons have gone one further and changed the opening credits to their titles to reflect the result, and strongly suggest they don't agree with it.
In a recurring sequence which sees Bart writing lines on the blackboard, the illustrators see the troublemaker in detention, writing: "Being right sucks."
Watch it here:
The Simpsons updates its 2000 prediction of a Trump Presidency... #TheSimpsons pic.twitter.com/Myf5rYb9Dj

— The Simpsons (@TheSimpsons) November 14, 2016
Series writer Dave Dan Greaney previously said the episode "was a warning to America" which showed what would happen if the country went "insane".
Talking to The Hollywood Reporter he revealed: "[It] just seemed like the logical last stop before hitting bottom. It was pitched because it was consistent with the vision of America going insane."
He added: "What we needed was for Lisa to have problems that were beyond her fixing, that everything went as bad as it possibly could, and that's why we had Trump be president before her."
See a clip from that famous episode here:
Photo: Twitter/The Simpsons/Fox