How To Buy Tickets For Reading & Leeds Festival 2018
12 February 2018, 14:27 | Updated: 13 February 2018, 12:11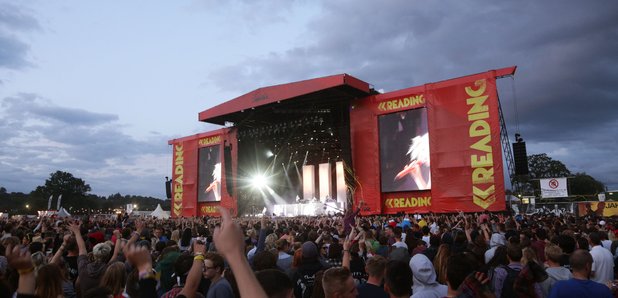 Find out all the latest details for the sister festivals including ticket prices, site opening times, accessibility and instalment plans.
This Monday (12 February) saw Reading & Leeds Festival confirm their first line-up announcement would be coming the following day,
But how and when can you buy tickets to the festival, which takes place at Reading's Richfield Avenue and Leeds' Bramham Park from 24-26 August 2018?
TOMORROW pic.twitter.com/o8wA4RNYew

— Reading & Leeds Fest (@OfficialRandL) February 12, 2018
Find out here:
When do tickets go on sale?
Tickets for both locations are on sale now from their individual websites.
What can you buy?
Music fans can buy Weekend Tickets, Early Entry tickets, Car passes and Campervan tickets.
Weekend Camping Tickets start at £205.00 (with a booking fee of £16.40), and doors opening in Leeds on Thursday 23 August at 3am and in Reading on Thursday 24 August at 8am.
Early Entry tickets cost an extra £20 and will get you on to the Leeds site on Wednesday 22 August at 2pm and at Reading at on Wednesday 22 August at 6pm.
How many tickets can you buy?
There is a ticket limit of 4 tickets per person, per address and per credit card.
You can also buy Reading & Leeds festival tickets as a gift.
Who can attend for free?
All children 12 and under are admitted free, but must be accompanied by and 18 and over paying ticket holder at all times.
What about accessibility tickets?
Disabled customers are advised to first book a regular Weekend or Day Ticket before applying to access disabled facilities and a free PA ticket if needed.
If you are not offered a free ticket for a PA but you still wish to bring someone, the festival will make a ticket available.
The application period is not yet open, but you can send your name and contact details to accessuk@festivalrepublic.com to be notified when it does and be sent a registration form.
What else can you buy?
Punters can pay an extra £35 for a Seat Of Luxury Loo Pass, which you will give them access to posher loos and the potential of using facilities such as hair dryers in a separate tent area.
However the rules on access and what you get for your ticket vary depending on which festival you're going to, so read the separate websites carefully.
Find out more about the Leeds Seat Of Luxury Loo Pass here.
Find out more about the Reading Seat Of Luxury Loo Pass here.
Car parking and Campervan tickets are also on sale now, but careful and make sure you've selected the right options for the right festival site.
Lockerhouse tickets cost an extra £20 and can also be ordered online. The lockers will all contain one USB point for charging devices.
Is there a payment plan?
Yes. And the first instalment is required before 28 February.
See the key dates for instalments in their tweet below:
First announcement coming soon.
New instalment plans are up!
Part 1 before 28th Feb
Part 2 2nd April
Part 3 1st May
Part 4 1st Junehttps://t.co/4DvRPGaNU8 pic.twitter.com/vclWVl437M

— Reading & Leeds Fest (@OfficialRandL) February 3, 2018
For all other information on Reading & Leeds Festival visit their websites below:
Visit the Reading Festival website here.
Visit the Leeds Festival website here.
Lead photo credit: Yui Mok/PA Archive/PA Images