Have These Euro Festivals Just Announced The Best Line Ups Of 2016?
21 January 2016, 12:21 | Updated: 23 August 2017, 10:25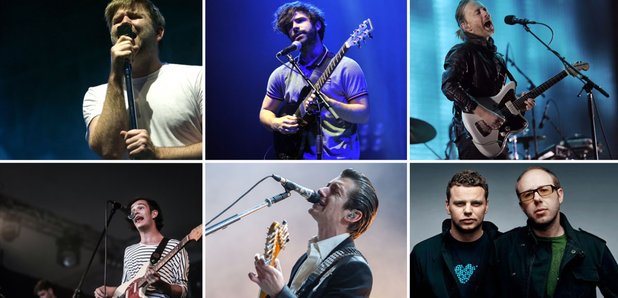 Will 2016 finally be the year the UK totally abandons British festivals and heads to the Mediterranean? Radiohead, The Chemical Brothers, Foals and Pixies are just SOME of the names revealed for Primavera Sound and Nos Alive.
It's no secret that Europe is becoming the go to place for music festivals. Ignoring the fact that good weather is almost guaranteed, tickets and beer are cheaper AND you get to visit a part of the world you may never have been to before.
There are negatives too of course, (like paying for flights and lugging your stuff all the way from London to Lisbon) but with the line ups they're cracking out these days it's becoming harder and harder to find reasons not to get involved.
Barcelona's Primavera Sound and Lisbon's Nos Alive are great examples of this. Consistently, year on year, these two festivals (which take place just over a month apart) showcase the biggest, most interesting bands in the world, while reserving spots for up and coming artists. They're helping grow younger bands into into headline worthy acts (like The 1975, Foals, Tame Impala) and yet manage to secure classic artists too.
And instead of simply trying to book the most famous acts in the world (be them rappers, pop stars, or bands) Nos Alive and Primavera Sound seem more concerned with booking the best.
This year Primavera Sound in Spain takes place from 1st - 5th June, and has currently announced Radiohead, LCD Soundsystem, Suede, The Last Shadow Puppets, Tame Impala and loads more. You can check out the full Primavera Sound line up here.
Ladies and Gentlemen, we're in orbit https://t.co/ZTZxA9zwif #primaverasound pic.twitter.com/YqF7Bj0JA6

— Primavera Sound (@Primavera_Sound) January 21, 2016
Nos Alive, taking place in Portugal between July 7th - 9th, has confirmed Radiohead and Tame Impala too, plus Foals, The Chemical Brothers, Pixies, The 1975, Wolf Alice among others. Take a look a Nos Alive's line up here.
No, you're not going to get The Rolling Stones or Adele, but instead you'll find yourself watching the bands you wished you could have seen, with worthy spots on big stages.
Wherever you decide to go this year, you're going to have a good time. Festivals are great, obviously. but as the sheer weight of what's happening in Europe becomes unquestionable, maybe consider swapping the mud for the sea.