Charlatans frontman's Tim Peaks Diner to return to Kendal Calling
16 April 2014, 19:00 | Updated: 17 August 2017, 15:07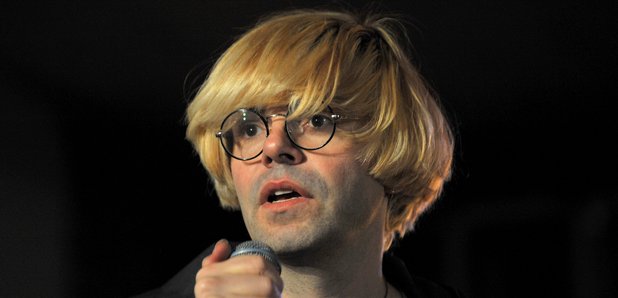 Tim Burgess' homage to Twin Peaks will be appearing at Kendal Calling for a third successive year.
Situated in a log cabin, the Tim Peaks diner will be serving up the perfect blend of musical, cultural and foodie nourishment during the day and hedonistic merriment long into the night.
Joining in the action in 2014 are Frankie and The Heartstrings who will bring their now record shop, Pop Recs to Tim Peaks Diner.
Albert Albert - former Kaiser Chiefs drummer Nick Hodgson's new band - and Seahawks are among the acts performing.
"Our amazing log cabin will once again be the place to be for damn fine cherry pie, secret gigs, not so secret gigs, fantastic coffee, brilliant music and unforgettable memories," Tim Burgess commented. "Plus we've got our own astrophysicist and a record shop too"

Suede, Frank Turner and 2ManyDjs are among the acts on the bill for this year's Kendal Calling, which takes place 1-3 August 2014.
Kendal Calling 2014 line-up so far:

Suede / Frank Turner and The Sleeping Souls / Example
Happy Mondays / De La Soul / Miles Kane / 2ManyDjs (dj set) / Tom Odell / Razorlight / Augustines / Jimi Goodwin / Frightened Rabbit / Simon and Oscar from Ocean Colour Scene (acoustic) Clean Bandit / Newton Faulkner / Athlete / Ella Eyre / Mr Scruff / Lewis Watson / Admiral Fallow / Reel Big Fish / The Heavy / Catfish & the Bottlemen / Rae Morris / Saint Raymond / Dub Pistols / Jess Glynne / Women's Hour / Findlay / Breton / Josh Record / Black Rivers / Team Me / Norma Jean Martine / Mirror Signal / The Tea Street Band / Champs / Dario G (DJ set) / Lauren Aquilina / Lyger/ Big Sixes / Etches / Molly Warburton / Gypsy Hill / Smerins Anti-Social Club / Kimberly Anne / Amber Run / Gallery Circus / Lanterns on the Lake / The Lucid Dream / Johnny Borrell & Zazou / The Lancashire Hotpots / Aquilo / DJ Food, DJ Cheeba, DJ Moneyshot - Caught In the Middle of a 3 way mix / Zion Train - Perch & Dubdadda / Reeps One / The Melodic / By The Rivers / Typesun / Will Varley / We Were Evergreen / Tantz / John Langon Band / Talisman / Will Tramp! / Drop the Mustard DJs / Zutekh DJs / English Disco Lovers / Herbal Sessions / Dub Central / Showhawk Duo / Urban Sabotage presents: Davos LIVE / Lisbon / The Membranes / Skutch Manos / Metisa / Colt 45 / MDNGHT / Berlin / Berlin / You / $ista $ista / WALK / Honeyfeet / Harlequin Marching Band / Skittles & Live Band / Cut Capers / Lauren Housley / René / Gypsies of Bohemia / Scatters the Funky Disco Pig / The Grand Old Ukes of Yorkshire / Treedrum / Riot Jazz Brass Band / The Dakota Jim Band / Taylor Jackson / Charlie Cooper / Thingumbob & The Thingumajogs / From A Window / Buffalo Brothers / The Big Easy & Swing Dance / Flamingus / Flavia / The Bear around Your Neck / Whiskey Moon Face / Felix Hagan & The Family / Too Much Love / Saluation Dub Collective / The EME / Dave Rybka / Xander Smith / Urban Folk Quartet / Mint Royale / Baggy Mondays / Dave Haslam / Black Cat DJs / Father Funk / Gareth Brooks (Radio X) / King Eider / The Hummingbirds / Phoneys & the Freaks / Howling Rhythm DJs / Aaron Wright & Jacqui Abbott / Kommix Kut / The Raged / Our Fold / Dub Sex / Mark Abbott / Fallback Productions / Sam P / Karl Yates / Northern Soul Dance Classes
Glow Dance Tent:
2manydj's (dj set) / Andy C / Zane Lowe / James Zabiela / Gorgon City / Goldie / Dub Phizix & MC Strategy / Shadow Child / Friend Within / GQ / Lapsley / Ash Howell / My Neu Leng


BONDAX & FRIENDS presents
Bondax b2b MJ Cole, Karma Kid b2b Monki, Star Slinger b2b TCTS, Kartel b2b French Kiwi Juice
Woodlands
BIRD / Seattle Yacht Club / Love For Zero / Jakarta Club / Evil Blizzard / The Templebys / The Pinstripe Pigeon Band / Fiona Clayton / The Lottery Winners / Jake & The Jellyfish / Ivan Campo / The Orchid Hunters / Nancy Kent / The Lumberjack Cowboy Heartbreak Trucking Co. / Arran George / Joe McCorriston / Alex Hulme / Mylittlebrother /Baksheesh / Ben Dyson / Gritty Britain