Glastonbury 2019 headliners & line-up rumours
6 October 2018, 20:30 | Updated: 20 December 2018, 14:11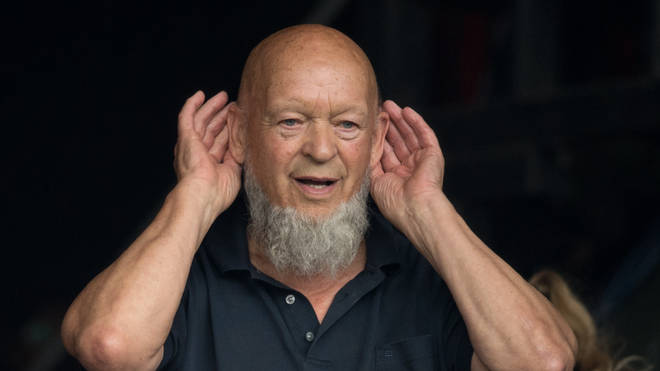 Here's who's in the frame to headline or make the line-up at Glastonbury festival in 2019.
Festival founder Michael Eavis hinted that the biggest acts who play the next Glastonbury festival will be "two or three that have never played".
Meanwhile Emily has confirmed one non-British act as been booked so far. Kylie has since been rumoured to have signed for the Sunday legends slot, while an insider has claimed Emily Eavis said Led Zeppelin, Madonna and Fleetwood Mac are NOT booked for 2019.
Join us as we examine the evidence and decided who could feature in the prestigious line-up next year.
CONFIRMED: Kylie Minogue

Kylie Minogue performs in 2005.

Picture: Maurice McDonald/PA Wire/PA Images

Kylie Minogue has been officially confirmed to play the Sunday legends tea time slot on Glastonbury's Pyramid Stage.

Kylie's appearance will see her join the likes of Dolly Parton, Lionel Richie and Bee Gees singer Barry Gibb in playing the famous legends slot.


We are delighted to announce that Kylie is finally bringing her show to Glastonbury. She'll play the legendary Sunday afternoon slot at next year's Festival. And we cannot wait. pic.twitter.com/sTAqOUvN0i

— Glastonbury Festival (@GlastoFest) December 19, 2018

The Aussie icon was previously strongly rumoured to play the famous slot.

A source told The Sun: "Kylie had to pull out of Glastonbury in 2005 just a month before she was due to appear so this performance will be a very emotional and poignant moment for her.

"She jumped at the opportunity to appear next year and it is the perfect way to celebrate her career."

This does fit with Emily Eavis' previous hint that the act booked to play the legends slot was a woman and not British.

If the rumours are true we'd expect Kylie to provide plenty of glam, glitz, glitter and a fair few famous duets:

CONFIRMED: Stormzy

Stormzy in 2018.

Picture: Tabatha Fireman/Getty Images

Stormzy is the first headliner to be confirmed for Glastonbury in 2019.

The news was broken this week through the festival's Glastonbury Free Press posters, which began appearing in Oxfam stores.

The Shut Up star has since confirmed the news on his official Instagram, sharing the very same poster with the caption: "THE HEADLINE ACT - GLASTONBURY 2019, well lets be fucking having ya then."

The Somerset festival has since gone on to confirm the news, writing: "We're delighted to announce that Stormzy is confirmed as the first headliner for Glastonbury 2019. The multi award-winning British MC will headline the Pyramid Stage on Friday, June 28th."

We're delighted to announce that Stormzy is confirmed as the first headliner for Glastonbury 2019. The multi award-winning British MC will headline the Pyramid Stage on Friday, June 28th. pic.twitter.com/xXhKPuKC3z

— Glastonbury Festival (@GlastoFest) November 15, 2018

The South London grime star teased the story earlier this year with a mysterious Instagram story, displaying the words: "No I'm not havin hip hop at Glastonbury… Fuckin' No chance."

The words quote Noel Gallagher, who told NME after hearing that Jay-Z would be headlining the festival in 2008: "Glastonbury has a tradition of guitar music and even when they throw the odd curve ball in on a Sunday night you go 'Kylie Minogue?' I don't know about it.

"But I'm not having hip-hop at Glastonbury. It's wrong."

Jay Z famously responded to his critics and Noel's Gallagher by arriving on stage for his headline slot complete with a guitar, while singing the words to Wonderwall.

Epic.

Liam Gallagher

Liam Gallagher.

Picture: Press

Liam Gallagher has become a bookies favourite to headline Glastonbury Festival 2019 as a solo act.

Betway have tipped the former Oasis frontman for the top spot on the Somerset festival's Pyramid Stage, giving him fresh odds of 7/4.

The Supersonic legend had previously been an outsider at 8/1 in September, behind the likes of Arctic Monkeys and ABBA, but the Wall Of Glass singer now heads their list.

Betway's Alan Alger said: "Betting on who'll headline Glastonbury tends to go quiet for a bit and then all of a sudden we notice a string of bets for a certain artist.

"Liam Gallagher is now the act that everyone wants to back and he heads the betting to secure a headline slot on the Pyramid Stage at just 7/4."

Sir Paul McCartney

Paul McCartney in 2017. Picture: KAMIL KRZACZYNSKI/AFP/Getty Images

The legendary Beatle last headlined the festival in 2004, but he could be primed to return to Pyramid Stage this year as he releases his 17th solo album, Egypt Station in September.

If that evidence wasn't compelling enough, speaking to the BBC, the Emily Eavis said the artist playing the Sunday legends slot will be a "non-British female" and that Paul McCartney is always on the top their list to headline the festival.

Madonna: apparently not

Madonna performs in Berlin in 2015.

Picture: Rainer Jensen/DPA/PA Images

The Queen of Pop was tipped for the headline slot, with The Sun reporting that she was in talks with organisers in a bid to secure a female headliner.

However, at a talk in Taunton on 11 October, Emily Eavis claimed that Madge wasn't in the running for 2019. Boo.

The Spice Girls

The Spice Girls have officially announced their reunion, with all but Victoria Beckham taking to the stage with UK dates in May and June next year.

There's also a Glasto-shaped space left in their busy schedule... so watch this space.

The Spice Girls commandeered a Girl Power take over live on Heart Breakfast.

Picture: Heart

The Beach Boys

The Beach Boys on Pet Sounds shoot.

Picture: Press

Mike Love has revealed he'd love for the surviving members of the group to play the world famous festival's Sunday afternoon legends slot with his cousin and the band's co-founder Brian Wilson.

Speaking to The Sun, he revealed: "Yeah, it would be good if we could find the right way in which to do it. We are in contact.
"He had a back operation the other day so I sent him a message. There's a lot of love there."

Led Zeppelin: apparently not

Led Zeppelin's Robert Plant in 2014. Picture: Joel Ryan/Invision/AP/AP/Press Association Images

Despite Robert Plant playing a solo sett at the festival in 2014 and 1993, Led Zep have never visited Worthy Farm. The Kashmir singer recently said we "can't hold our breaths forever" for a reunion, but we can probably manage another year. It's said Eavis first got the idea for Glastonbury after watching them at The Bath Festival of Blues and Progressive Music.

At a talk in Taunton on 11 October, Emily Eavis claimed that Led Zep weren't going to be there in 2019. But she said nothing about 2020!

Kendrick Lamar

Kendrick Lamar at the 60th GRAMMY Awards in 2018. Picture: Getty Images/ Christopher Polk / Staff

Arguably one of the hottest artists at the moment, Kendrick Lamar has just been confirmed for a headline set at Reading & Leeds 2018, so there's no reason to see why he couldn't headline or at the very least appear at Glastonbury next year, following in the footsteps of rap royalty like Jay-Z and Kanye West, who topped the bill in 2008 and 2015 respectively.

Elton John

Elton John performing at 60th GRAMMY Awards 2018. Picture: Kevin Winter/Getty Images for NARAS

Believe it or not the Rocket Man has never graced the stage at Glastonbury in his six-decade-long career. If that's not enough to convince you, the piano man has announced an end to touring to spend more time with his family.

However, he'll be on the (Yellow Brick) road on a mammoth Global tour that ends in June 2019, and there's convenient gap between his Dublin date on 13 June and his slot at Switzerland's Montreux Jazz Festival on 29 June.

Just imagine a mass sing-a-long of Tiny Dancer on the Pyramid Stage...

Fleetwood Mac: Ruled out

Stevie Nicks of Fleetwood Mac in 2004. Picture: Getty Images/David S. Holloway / Stringer

Fleetwood Mac have remained famously elusive when it comes to Glastonbury Festival, forgo-ing it for a stint at Isle of Wight Festival 2015. It was thought that Eavis finally convinced them to grace us with their presence in 2019.

However, at a talk in Taunton on 11 October, Emily Eavis claimed that Fleetwook Mac weren't going to be there this year.

According to the BBC, Emily Eavis has reiterated that the Mac will not be playing Glastonbury this year. She's said they are always on her wish list though.

The Strokes

The Strokes.

Picture: Press

We can't quite believe we're saying this, but somehow The Strokes have never headlined OR featured on the bill at the Somerset festival. With their new album and the follow-up to Comedown Machine reported to not be out until 2019, surely that could put the New York band in the frame for headlining or at least making a cheeky appearance headlining The Other Stage?

Taylor Swift

Taylor Swift in 2017. Picture: ANGELA WEISS/AFP/Getty Images

You may not like it, but there's no reason why international pop starlet Taylor Swift wouldn't follow in the footsteps of Beyonce.

The Stone Roses

The Stone Roses.

Picture: Press

It's hard to believe, but Ian Brown and co. haven't played the festival since being replaced by Pulp in 1995. Could 2019 be our lucky year?

Just imagine this on the Pyramid Stage

The Cure

Robert Smith of The Cure at Hyde Park on 7 July 2018.

Picture: Brian Rasic/WireImage/Getty

Robert Smith has announced that The Cure will mark 30 years since the release of their landmark album Disintegration by playing "around 20" festivals in Europe. They've already announced headline slots at Werchter, Hurricane and Southside festivals, could they do Glastonbury? The Cure headlined Worthy Farm in 1986, 1990 and 1995, so they're due a return visit.
Watch Foo Fighters play Everlong at Glastonbury 2017:
Find out when you can get Glastonbury 2019 resale tickets
Lead Photo credit: Led Zeppelin's Robert Plant: Dennis Van Tine/ABACA USA/PA Images, Stevie Nicks: Steven Ferdman / Stringer, Kendrick Lamar: Christopher Polk / Staff, Taylor Swift: ANGELA WEISS/AFP/Getty Images