Will The Killers Play A Surprise Set At Glastonbury?
25 June 2017, 16:03 | Updated: 17 August 2017, 14:47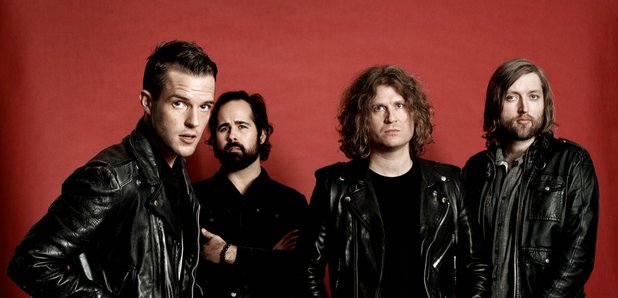 Rumours are rife that Brandon Flowers and co could be making an unexpected appearance at Worthy Farm this weekend.
Last month saw Emily Eavis tease "really big" surprises for Glasto 2017. And, with the festival underwy, we know when to expect some of the their secret gigs this year. Circa Waves and Everything Everything have already made unscheduled appearances at the William's Green stage on Thursday night.
Elbow paid tribute to the tenth anniversary of Emily Eavis's The Park Stage on Friday (as did Lord Buckethead), but there's still a slot left at The John Peel Stage on Sunday at 17:30. Radio X considers some of the huge bands that could still make an appearance at Worthy Farm...
The Killers
While Brandon Flowers and co. are set to make their UK festival headline appearance at Hyde Park's British Summer Time this July, rumours are getting VERY strong that The Killers will appear in the spare slot at the John Peel Stage in Sunday at 5.30pm.
Plus, the Mr. Brightside rockers have some time after their set at Greece's Ejekt festival on Saturday 24 June... When Radio X's Gordon Smart put the question directly to Brandon Flowers, he said: "We're playing Athens the day before"... the day before what, Brandon?
The John Peel Stage - then just the lowly New Bands Tent - was the scene of The Killers' huge breakthrough set in 2004. The next year, they had graduated to second from the top on the Pyramid Stage!
Twitter account Secret Glasto has been predicting the secret sets with accuracy so far and is confident The Killers will make an appearance:


To all you clever clogs who got the first reference, we can now confirm the Killers at 17:30 in John Peel! Get there soon, will be rammed!

— Secretglasto (@secretglasto) June 25, 2017
Oasis
William Hill have been offering odds of 12/1 that Noel and Liam Gallagher will get back on stage together at some point over the weekend. Noel is introducing the Oasis documentary at the Williams Green area on Friday night, while Liam plays the Other Stage on Saturday afternoon. And, according to this clip from Radio X's own Gordon Smart, Noel was still on site on Saturday morning... but nothing took place., even though Liam sang Don't Look Back In Anger for the first time ever.
Queens Of The Stone Age

Josh Homme and his merry men have announced some UK shows for the autumn, but when Radio X's Gordon Smart asked him if we could maybe see QOTSA before that, Homme replied: "Well I love surprises and one of the greatest ways to learn to make a secret is to learn to keep one. But wouldn't it be amazing if we just turned up at some festival, wouldn't that would be crazy?"
Guns N' Roses
The Paradise City rockers are bringing their classic line-up of Axl Rose, Slash and Duff McKagan to Europe this summer, with two dates in June at the London Stadium. While the Welcome To The Jungle outfit will be playing Denmark and Belgium on Thursday 22 June and Saturday 24 June respectively, they have days off on the 23rd and 25th which could easily see them fly down to Worthy Farm for a secret gig.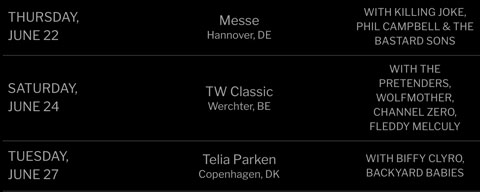 Credit: gunsnroses.com
Noel Gallagher

There's no denying that the Ballad Of The Mighty I singer is a big Glastonbury fan, and he makes a point of heading down there as a punter almost every year. And, thanks to the Glasto website, we know he's going to introduce a screening of Mat Whitecross' Supersonic documentary at the festival on Friday... so surely he can fit in a cheeky performance or two? John Peel on Sunday evening sounds pretty perfect to us.
Pink Floyd
This year sees the legendary prog rockers celebrate 50 years since the release of their debut album. With a brand new V&A exhibition in Their Mortal Remains, it's fair to assume that Roger Waters, David Gilmour and Nick Mason are feeling nostalgic.
See our video of the exhibition here:
According to eFestivals, Emily Eavis has already lined up two headliners for Glasto's 50th anniversary in 2020, but she was keen to say that neither of them were Pink Floyd. She didn't mention anything about 2017 though...
The Rolling Stones

This week, the Jumping Jack Flash four-piece announced their NO FILTER tour, which will see them play dates across Europe in 2017. However, absolutely no dates had been in their home ground. Today they revealed the reason for the glaring omission, writing: "Sorry to our UK fans there are no UK dates on this run,due to lack of available venues because of sporting fixtures. Hope to be here in 2018".
Sorry to our UK fans there are no UK dates on this run,due to lack of available venues because of sporting fixtures. Hope to be here in 2018 pic.twitter.com/X3NGYO5sE3

— The Rolling Stones (@RollingStones) May 11, 2017
There's a lot of space at Glastonbury though, isn't there? Plus, with the tour starting in September, there are absolutely no clashes to stand in the way. Mick Jagger, Keith Richards, Ronnie Wood and Charlie Watts headlined the festival for the first time in 2013, but there's no reason they couldn't re-visit Worthy Farm again.