Steps Launch Petition To Perform With Barry Gibb At Glastonbury
19 April 2017, 15:37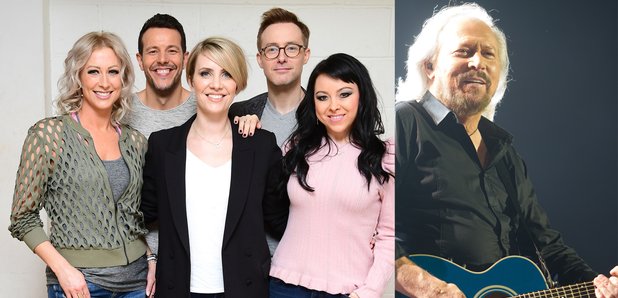 The cheesy pop band have announced their dream is to play their hit cover Tragedy with the Bee Gee at Worthy Farm this June.
90s pop band Steps have launched a petition to be invited to duet with Bee Gees legend Barry Gibb at Glastonbury this June.
The British group had a hit in 1999 with the Bee Gees' disco classic Tragedy - and now they hope their dream could come true and see the quintet perform the song live on the Pyramid Stage.
Claire Richards told the Daily Star that the fivesome would love to appear with Gibb, who is the only surviving member of the Bee Gees following the death of brother Robin and Maurice.
"We never met Barry but he's at Glastonbury, maybe he should get us down," she said.
"We should go on with him it would be amazing. If we went on with him we wouldn't get glassed. Can you imagine, Steps do Glastonbury?"
Her bandmate Ian "H" Watkins pleaded: "Please start a petition, they had Shirley Bassey and Dolly Parton so why not us."
Barry Gibb appeared with headliners Coldplay at last year's festival, duetting with Chris Martin and co on a version of the disco monster Stayin' Alive and the classic To Love Somebody.
The veteran musician and songwriter has been added to the bill for Glastonbury 2017 and it's expected that he will take the coveted "Sunday legends" slot…
Richards admitted: "20 years ago there was no way festivals would have touched us with a bargepole."
But H reasoned: "We've become, dare I say, maybe not cool but retro. "The nostalgia has kicked in and people are not afraid to say: Hey, I like Steps."
Steps are making a comeback with new album Tears On The Dancefloor to mark their 20th anniversary.
Could this superstar collaboration happen? Would it be incredible, or would it be a…