Metallica bring HEAVY to Glastonbury with Pyramid Stage headline set
28 June 2014, 23:45 | Updated: 30 June 2014, 12:30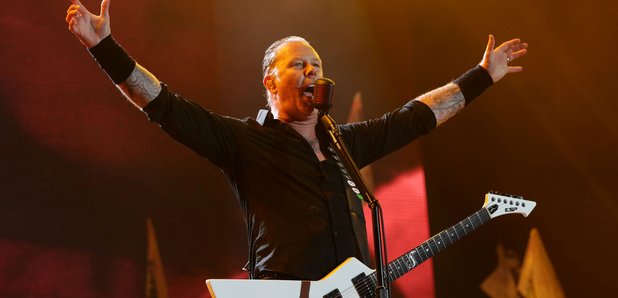 The band dipped into their back catalogue with a raucous 90 minute show.
The band opened with the double whammy of two thirty year old tracks: Creeping Death and For Whom The Bell Tolls, from their second album Ride The Lightning.

"We're here to represent the heavier side of things," announced frontman James Hetfield, before dedicating Wherever I May Roam "to all the British metal bands who dreamed of and are still dreaming of playing Glastonbury".

Flanked by a group of fans on stage, the band performed a selection of songs from their entire 33-year career, including Nothing Else Matters, Enter Sandman and One. The set ended with a cover of Whiskey In The Jar and a track from the band's debut album, Search And Destroy.

Before the set, Metallica showed a video projection called Glastallica, directed by Julien Temple, featuring footage of a hunt with the band dressed as bears - a wry comment on the controversy over James Hetfield's support of bear hunting, which prompted a petition to have the band taken off the bill.


At the end of the set, drummer Lars Ulrich announced: "There is no place on this fucking earth like this Glastonbury festival. Metallica fucking loves you and we hope to see you one more fucking time!"
METALLICA GLASTONBURY SETLIST

Creeping Death
For Whom the Bell Tolls
Wherever I May Roam
Sad but True
Fade to Black
Cyanide
The Unforgiven
The Memory Remains
One
Master of Puppets
Nothing Else Matters
Enter Sandman
Whiskey in the Jar
Seek And Destroy