Let's Play… Glastonbury Bingo!
23 June 2017, 12:03 | Updated: 24 June 2017, 13:03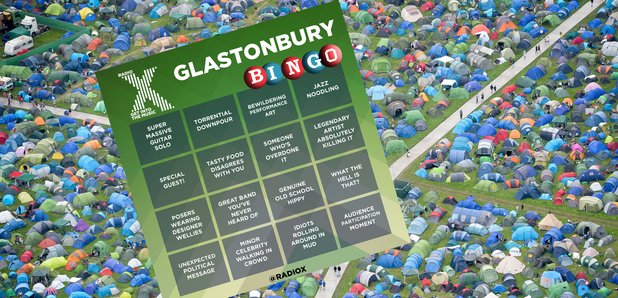 You know the score… what are the "classics" that you expect to see at every single Glastonbury festival? Well, let's make it interesting.
As Glastonbury rapidly approaches its 50th anniversary, we find that the weekend of shenanigans at Worthy Farm in Somerset has become a permanent fixture on the British calendar. In fact, the festival has become so entrenched in the culture, there are certain events or sights that you can depend on every June.

So, Radio X thought - why not make a game of it? Let's play Glastonbury Bingo! Whether you're in the thick of it, camping rough and loving it, or sitting at home, watching on the "red button", play along and cross off a square when you see one of the choice moments.

Here's your card, and here's what you're looking for…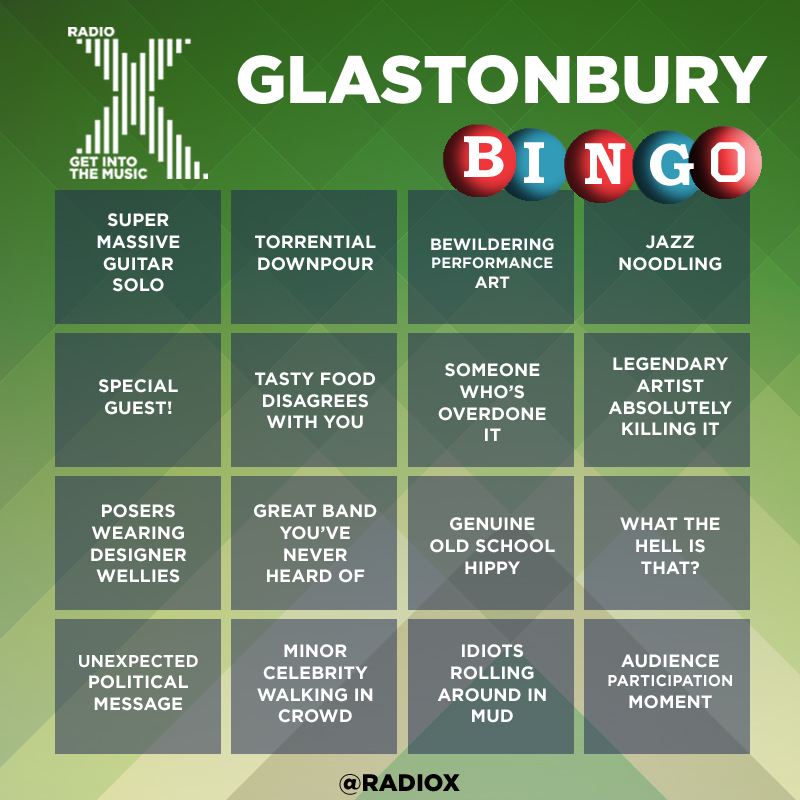 Super Massive Guitar Solo
In honour of multiple headliners Muse, The Who and maybe even this year's star Big Dave Grohl. Extra points if the rest of the band stop to let the guitarist do their thing.
Torrential Downpour
Might not be such a sure thing at 2017's festival, but hey - it's June in Britain, anything can happen.
Bewildering Perfomance Art
It could be on one of the main stages, it could be wandering around the crowd, if it makes you stop and think 'What the hell's THAT all about', chances are it's performance art.
Jazz Noodling
AKA extended solos. Often found at some of the more "specialist" stages, it could happen right in the middle of a headline set. We're looking at YOUm Radiohead.
Special Guest!
Focus on Ed Sheehan on Sunday night. Bookies have put 1/6 odds on Stormy turning up, with Taylor Swift 2/1. Both Harry Styles and Ellie Goulding are 6/1 with veteran ivory-tinkler Elton John at 8/1.
Tasty Food Disagrees With You
Or, the "Glastonbury belly". We're all for a culinary adventure, but know your limits.
Someone Who's Overdone It
Bonus points if they're an artist performing a set.
Legendary Artist Absolutely Killing It
Bee Gee Barry Gibb is a shoo-in, but keep an eye out for Kris Kristofferson, or event Kiefer Sutherland. Maybe even The Jacksons?
Posers Wearing Designer Wellies
Despite record temperatures on the Wednesday, this will still happen.
Great Band You've Never Heard Of
Keep an eye on that John Peel Tent!
Genuine Old School Hippy
Even though it's "gone corporate", Glastonbury still has that history, man. Bonus points if they're totally naked.
What The Hell Is THAT?
It could be a person. It could be some kind of stage set. If you can't make head nor tail of it, its a CROSS for that box.
Unexpected Political Message
To be honest, we're expecting a lot of this in 2017. But check the box off if it's from an unlikely source. Sheeran's got to do something, surely.
Minor Celebrity Walking In Crowd
Johnny Depp - not applicable. Kiefer Sutherland - not applicable. One of the Chuckle Brothers - CHECK.
Idiots Rolling Around In Mud
Will be scarce this year, but someone will find something to make themselves grubby with, don't you worry. Shudder.
Audience Participation Moment
Maybe not Radiohead, but if they unleash Creep, yes. Foo Fighters - deffo. Sheeran - absolutely. Katy Perry - God knows.
GOOD LUCK - AND DON'T FORGET TO SHOUT "GLASTOOOOOO!" IF YOU GET A WHOLE ROW!