Johnny Depp Jokes About President Trump Assassination
23 June 2017, 10:32 | Updated: 23 June 2017, 11:34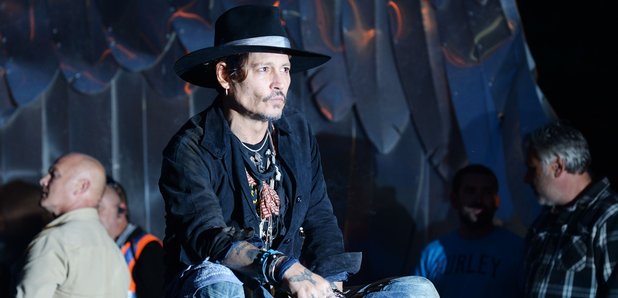 "When was the last time an actor assassinated a president?" the star asked the crowd at Glastonbury, causing anger on social media.
Johnny Depp has found himself at the centre of controversy after joking about assassinating Donald Trump at Glastonbury festival.

The 54-year-old actor appeared at the festival last night (Thursday 23 June), to introduce a selection of movies at the event's new Cineramageddon tent.
Johnny Depp appears to threaten an assassination attempt on Donald Trump at Glastonbury. https://t.co/BADKCsLY1o pic.twitter.com/T2vwPBoXSj

— BBC News Ents Team (@BBCNewsEnts) June 23, 2017

While presenting his 2004 film The Libertine, he made a controversial quip: "It is just a question - I'm not insinuating anything. By the way, this is going to be in the press. It will be horrible. I like that you're all part of it. But when was the last time an actor assassinated a president?"

The star was referencing President Abraham Lincoln's 1865 assassination at the hands of actor John Wilkes Booth. He added: "Can we bring Trump here? I think he needs help and there are a lot of wonderful dark, dark places he could go.

"I want to clarify, I'm not an actor. I lie for a living. However, it's been a while and maybe it is time. Thank you so much for having me here."

The comment caused anger across social media, with Piers Morgan saying the joke was "stupid and dangerous".
Another day, another liberal celebrity 'jokes' about assassinating Trump.
Stupid & dangerous, Mr Depp. https://t.co/XGs3sTdRUm

— Piers Morgan (@piersmorgan) June 23, 2017

Many people called for the actor to be investigated by the US Secret Service. ABC news later tweeted that the department was "aware" of the incident.
The Secret Service is aware of Johnny Depp's comments, @ABC News has confirmed. https://t.co/2n9fRPKhuT

— ABC News (@ABC) June 23, 2017

The Dark Shadows star isn't the only famous face to have caused controversy with their comments about the president.

Last month, comic Kathy Griffin suffered a huge backlash when a photo of her holding a severed head in the likeness of the former Apprentice star appeared online.

She later apologised and said: "I'm a comic, I cross the line, I move the line and then I cross it. I went way too far.... I made a mistake and I was wrong."