How To Get Glastonbury 2017 Resale Tickets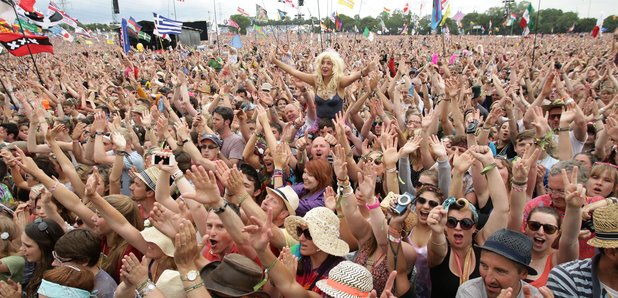 When do Glastonbury 2017 tickets go on resale? How do I buy them? Should I panic? Radio X has the ultimate guide to Glastonbury glory.
Know Your Dates
The dates for Glastonbury resale tickets have been announced, so set your reminders and have your alarms at the ready.
Coach tickets go on resale on Thursday 20 April 2017 at 6pm, while general tickets will be made available on Sunday 23 April 2017 at 9am.
Glastonbury 2017 Ticket Resale announced:
Thur 20 Apr: Ticket + Coach Packages
Sun 23 Apr: General Tickets
Info: https://t.co/TiesOjU7ZR pic.twitter.com/ie6FyZltKr

— Glastonbury Festival (@GlastoFest) April 10, 2017
The festival itself will be 21-25 June 2017 so make sure you can book those dates off before you go through the pain of trying to get a ticket.
Take It Very Seriously
Sure, there are more important things in the world. But in those 45 minutes before the words "Tickets Unavailable" start appearing in red, you should act as if it's the last hour before your dissertation is due in. Talk to your friends, make a strategic plan, and most importantly…
Don't Be Hungover!
This year, and most years, general admission tickets go on sale on a Sunday morning. That means there's a good chance you were toasting the weekend the night before. Get to bed early, then get up early – fresh as a daisy. Just think about all the time you'll have at Glasto to be hungover. Control yourself now.

Make Sure You Have Registered!
Sounds simple, but it's true. In order to crack down on touts years ago, all Glasto punters need to have a photo on their ticket and a unique registration number. Sorry to sat this, but If you're not registered by now, you won't get a ticket, because it's already closed.
Make sure you have the correct link
The official link for the Glastonbury 2017 ticket onsale is http://glastonbury.seetickets.com/.
Work As A Team
One person can book up to six tickets. That means you can have a solid force of six units constantly bashing those laptop keys. They don't even need to be people you plan on camping with. Everyone on earth has a colleague who's said "Ha, yeah man I'm totally going to try and get Glasto tickets this year! I hear Little Mix are going to headline!" Now, you don't want to hang out with this person, but use them to your advantage.

Be Prepared
Once you've got your elite crew of razor sharp buddies together, make sure you prepare yourselves. EXCHANGE DETAILS PROPERLY! To buy tickets, all you need is your Glastonbury reference number, postcode, and name. As long as you have these, you and your mates are sorted. Set up a Facebook page or chat over WhatsApp to communicate and, dear Lord, double check for typos in your details. The last thing you want is to get through, fill in your details, only to see "Sorry, that reference number is not registered." To avoid this, get your mates to copy and paste their Glasto details, rather than them typing them in or saying them over the phone. Then send all the details in ONE email chain so all the details are in one place. Then send and send again.
Use A Work Computer
No matter how great you think your home fibre optic connection is, it's not as good as your internet at work. Plus, just think, Sunday morning? Who's going to be around? (Unless, you know, you work at Starbucks or a church) All that delicious, powerful Internet will be solely yours. (Disclaimer: Radio X takes no responsibility for you getting fired for misusing work property)
Attack From All Angles
Remember the days when you used to have to phone someone in order to buy tickets to gigs? They truly were dark times. But, now that we're all online and would rather email, text, WhatsApp, Facebook private message, or Twitter DM than actually speak to someone, people forget about the phones. While you're frantically waiting for your webpage to refresh, stay calm and call. And while we're on the topic…
REFRESH! REFRESH! REFRESH!
Just keep refreshing. If you get through to the ticket page stage where the message appears "You're currently in a queue, this page will keep refreshing automatically" then you're halfway there. Before that, just keep banging it. TIP: double check which keystroke does a "hard refresh" on your browser in advance.
Don't Have Too Many Windows Open
Now, your brain will be saying "JUST OPEN MORE PAGES!" when the 09:05 panic hits. Resist. Unless you're trying to purchase tickets on a NASA super-computer, then chances are your laptop can only process so much information at once. Plus, if you have like 30 windows open, you can't keep track of what's happening on them anyway. No more then ten is a good number, but the fewer you have, the less likely you are to lose track of what's going on.
Don't panic!
It's a stressful business, but remain calm. If the page stalls when you're halfway through the transaction, don't panic. Go back a page and see if you can move forward from there. Otherwise, close the browser and start all over again. If you've been successful, the booking will be held for ten minutes, so don't hang around any longer than that.


Have Enough Money In Your Account… Obviously
Don't worry, we're not criticising your intelligence or capabilities with managing your accounts. But in this age where we all have eight different accounts and credit cards and ISAs, sometimes it's easy to lose track. Make sure you've got the money there before you start.
Glastonbury ticket prices for 2017 are £238 + £5 booking fee. Delivery charges will also apply. It's likely Glastonbury will not take money out of your account straight away, but never leave it to chance.
Go For The Coaches!
Everyone's initial reaction is to just buy the standard weekend ticket and figure out the logistics of getting to the festival later. But remember what a pain it was getting there last time? And the journey back? Oh GOD the journey back! You might not be able to take as many crisps with you on the coach, but who even eats the food they take to a festival anyway? And if you're worried about coach costs, just weigh it up against petrol and parking prices. Plus, getting a random coach from Brighton at 6am can mean you are up against a lot less competition when it comes to tickets.
Use All Technology Available
Remember, there's more than one way to get on the internet – tablets, smart phones... Come on, now! What do you think this is? 2009?! Use them too. Often your tablets have a slicker internet connection because they aren't crammed with as much rubbish as the laptop you bought in 2006, which doesn't even work without the charger plugged in anymore.
Don't Give Up!
Look, Glastonbury does sell out quickly. It's true. But have faith - keep going until the page tells you to stop. Remain focused. Keep calm and carry on. GOOD LUCK!