Glastonbury Issues Statement Responding To Zero Hours Contract Reports
6 July 2017, 11:26 | Updated: 6 July 2017, 11:33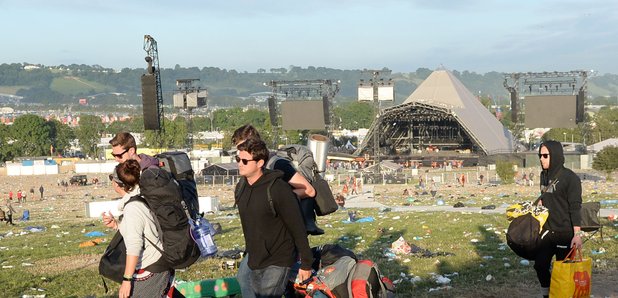 The Somerset festival has commented on claims surrounding the treatment of their litter pickers this year.
Glastonbury has released an official statement about the workforce hired to pick litter following this year's event.
Last week, The Independent reported that the Somerset festival "hired hundreds of workers from across Europe on zero hours contracts and then fired them after just two days".
This seemed at odds with the festival, which has an openly liberal stance and featured Labour leader Jeremy Corbyn - who has spoken out against zero hours contracts - on their bill.
Watch Jeremy Corbyn at the festival below:
However, taking to their official website, the festival has issued a statement revealing that the "picking team were given temporary worker agreements".
See their full statement here:
"In response to recent stories in the media, we would like to state that Glastonbury Festival's post-event litter picking team are all given temporary worker agreements for the duration of the clean-up. As well as being paid, they are provided with free meals and access to on-site facilities.
"The length of the clean-up varies considerably from year to year, based largely upon the weather conditions before, during and after the Festival. This is something the litter pickers – many of whom return year after year – are made aware of in their worker agreements (which assure them of a minimum of eight hours' work).
"This year was an unusually dry one for Glastonbury. That, coupled with a fantastic effort from Festival goers in taking their belongings home, meant that the bulk of the litter picking work was completed after 2.5 days (in 2016, a very wet year, the equivalent period was around 10 days).
"All but a core crew of litter pickers were advised that there was no further work available after Friday (June 30). Those who weren't able to leave the site over the weekend were given further meals, plus assistance with travel to nearby towns with public transport links.
"We'd like to thank the litter pickers for their work on the clean-up, which was – as always – hugely valued by the Festival."
While this year's litter pickers finished early due to good weather, those working after the mud-ridden event in 2016 may not have been as lucky.
Watch this video of the rubbish left on site at Glastonbury 2016, shot by Glastonbury clean-up worker Flashing Frog on the Monday after the event last June.