What SHOULDN'T You Take To Glastonbury Festival This Year?
1 June 2017, 15:47 | Updated: 19 June 2017, 16:22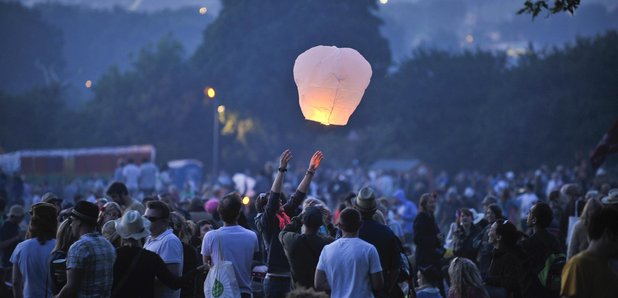 Festival organisers include sound systems, lanterns and drones on their list of unfavourable items.
Glastonbury 2017 is edging closer, with the balance payment window closing this Friday (7 April).
While the festival has provided punters with a helpful list of what to bring to the event, as Somerset Live notes, they've also created a list of "what not to bring".
Most seriously, Nitrous oxide - otherwise known as laughing gas - is now officially banned at the festival, and is considered a "contraband good, under the Psychoactive Substances Act 2016 which came into force last month".
Elsewhere on the list of no-no's are are laser pens, fireworks or flares, recording or taping equipment and sound systems.
No animals are permitted to the festival, except for guide dogs.
As always, the event prohibits anything brought in glass bottles and warns festival-goers that even perfume will be confiscated if it's found on their person.
Despite their long list of prohibited items, the festival DOES recommend a load of things you should bring such as wellies, loo roll and contraception.
See the items on their "What Not To Bring" list and get the full details here:
Gazebos, which will prevent others from pitching their tent
Only food and alcohol for personal consumption - nothing to be sold on to others
Excess packaging that could be disposed of before you leave for the festival
No glass bottles - not even bottles for perfume or aftershave
You may be searched at the entrance for any items that may be used in an illegal or offensive manner – which will be confiscated. Persons suspected of carrying out illegal and/or offensive activities onsite may also be searched and face eviction.
No portable laser equipment or pens
No animals (Except registered guide dogs)
No sound systems, generators, sky lanterns or kites, unauthorised fireworks, or wax flares - Persons using fireworks will be evicted from site and materials confiscated.
No unauthorised tape recorders, professional film or video equipment are allowed onsite. Cameras for personal use are welcome
Drones - flying or filming with Unmanned Aerial Vehicles (UAVs, or so-called drones) is not allowed on site before, during or after the Festival – and is prohibited by law.
No Nitrous oxide (laughing gas). As a contraband good, under the Psychoactive Substances Act 2016 which came into force earlier this year, this substance is banned at Glastonbury.