"Now What's The Real Line Up?" Twitter Reacts To Glasto 2017 Bill
30 March 2017, 12:56 | Updated: 30 March 2017, 13:17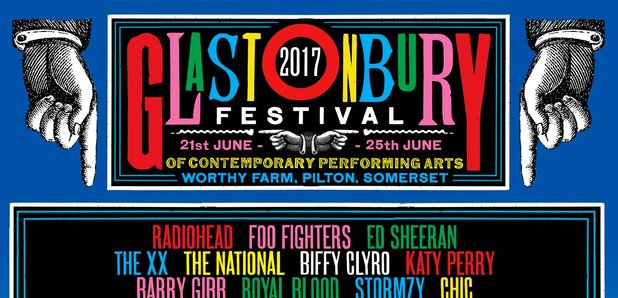 See the mixed responses to the Somerset festival's bill this year.
The Glastonbury line-up was finally announced today (30 March), and it's fair to say it's a had a few mixed reviews.
Here is our first Glastonbury Festival 2017 line-up poster (by @StanleyDonwood). Many more acts and attractions still to be announced! pic.twitter.com/TteFaUxQyy

— Glastonbury Festival (@GlastoFest) March 30, 2017
The bill boasts huge names in the likes of Biffy Clyro, The xx and Katy Perry, alongside a selection of artists from from across the spectrum.
Not everyone seems impressed by the varied line-up though. See some of their reactions here:
@GlastoFest Ha ha. Nice one lads. Now what's the real line up?

— Craig (@CW__78) March 30, 2017
@GlastoFest when did you decide to stop putting the effort in to the line up?

— Kyle Percy (@KylePercy) March 30, 2017
March 30, 2017
@GlastoFest @StanleyDonwood Not going to lie im underwhelmed.

— Danny Hughes (@archiethere) March 30, 2017
@Alfskiii @GlastoFest @StanleyDonwood hahahaha, i feel sorry for the younger generation now. Whata load of shit. 2 big stadium/festival act

— Gengiz Mustafa (@GengizM) March 30, 2017
Paul wasn't happy with the addition of Barry Gibb and The Jacksons:
@indiebird898 Barry Gibb and the Jacksons

— PAUL (@hud658) March 30, 2017
Some punters were bemused by the appearance of global popstar Katy Perry...
@GlastoFest @StanleyDonwood katy perry ...... Really

— Sophie (@soph1eburdett) March 30, 2017
But others actually wanted more of a pop offering!
@GlastoFest where's @ladygaga?

— Alison B (@Alibear1980) March 30, 2017
These guys are sticking up for the Somerset festival, with some calling it stronger than ever.
@KylePercy @GlastoFest plenty of variety as usual, something for everyone, if nothing to your taste hey don't go

— (((Elspeth Potts))) (@elliepooter) March 30, 2017
And these two just decided to have a massive joke about the line-up poster:
@MJJ93__ @GlastoFest @StanleyDonwood They're big in Africa.

— Davy Boy (@DavyAdam) March 30, 2017
Whatever side you're on, it's clear that there are still more acts to be announced, with Emily Eavis promising two year's worth of music and surprises on The Park Stage.
This guy gets it...