Ed Balls Says Radiohead's Glastonbury Set Was "Dirge-Like"
27 June 2017, 11:22 | Updated: 27 June 2017, 12:36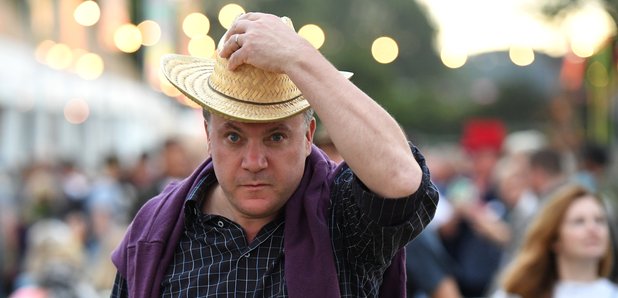 The former Shadow Chancellor of the Exchequer claims that Thom Yorke wasn't as good as Clean Bandit.
Former MP Ed Balls has reviewed his first ever trip to Glastonbury - and his sumamry of Radiohead's performance isn't complimentary. In fact he claims they "lost the audience".

In fact, the Friday night headliners' show comes off second best to a set by pop act Clean Bandit.

Writing for The Guardian, the one-time Strictly Come Dancing star said: "Clean Bandit do a breathtakingly brilliant set: wonderful lights, catchy tunes and brilliant dance production which has the whole audience roaring for more.

"But the atmosphere for Radiohead is funereal, the end of each song barely acknowledged by anyone other than the hardcore fans at the front.

"People around us chat through the songs, openly bored at the dirge-like offerings. And yes, there is a good reason why the large screens sit either side of the stage to help faraway audiences stay engaged; if you fill the feed with fuzzy, blurry, psychedelic pap, then it's no wonder you lose your audience."

Radiohead played a lengthy set that included a surprising number of "hits", including the classic Creep, Karma Police, Street Spirit and Paranoid Android.


Balls went on: "What a contrast to go over to the Other Stage and join the energy, excitement and musical wizardry of Major Lazer. It would have had me bouncing on the bed at home."

Oh dear. However, Balls gave top marks to Foo Fighters, "a band I probably would not choose to listen to in the car but, live, put on a truly memorable show."

Many have claimed that Labour leader's Jeremy Corbyn was the star of the festival after his appearance on the Pyramid Stage on Saturday afternoon, and Balls reports that the atmosphere at the event was not angry or cynical.

He wrote: "Countless people – young and old – grabbed me over the course of the weekend to talk about how hopeful they felt about the possibility of change."