PHOTOS: Twitter Reacts To Chaos At Fyre Festival
28 April 2017, 14:22 | Updated: 9 August 2017, 15:08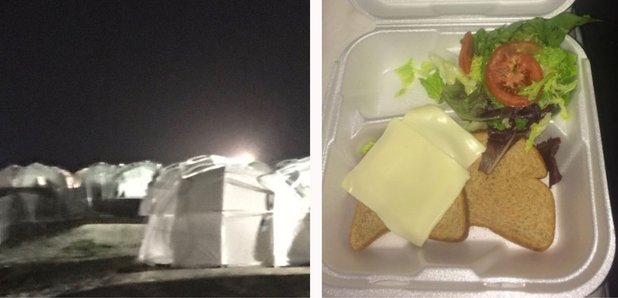 The Bahamas festival, which was backed by model Bella Hadid, has been described as "Rich Kids of Instagram meets Lord of the Flies".
Fyre Festival has trended on Twitter amid reports of "mass chaos" and poor organisation in its inaugural year.
The boutique Bahamas festival - which sold packages costing up to $13,000 (£10,000), promised luxury accommodation and "culinary pop-ups" - has been slammed for falling ridiculously short of its claims.
Customers claimed they were greeted with half-made "disaster relief" tents, no beer, and barely any food or water. See some of the images emerging from the site here.
That's right folks for just $10k, you too can have the "refugee fleeing war torn region" treatment at #fyrefestival pic.twitter.com/RqYzGq0Yg5

— Garrett Garner (@garrettgarner12) April 28, 2017
In case you're wondering, those "cabanas" are actually disaster relief tents.#fyrefestival pic.twitter.com/jaZpkIKVT2

— Matt Halfhill (@MattHalfhill) April 28, 2017
These are the secure lockers at Fyre Fest. They forgot to tell us we needed locks. #fyrefestival #fyrefest pic.twitter.com/Tqyjqbg2Gy

— William N. Finley IV (@WNFIV) April 28, 2017
This is how Fyre Fest handles luggage. Just drop it out of a shipping container. At night. With no lights. #fyrefestival pic.twitter.com/X5CdZRyJWo

— William N. Finley IV (@WNFIV) April 28, 2017
According to these images, those who paid for food were simply greeted with a bit of of bread, two slices cheese and a bit of salad.
The dinner that @fyrefestival promised us was catered by Steven Starr is literally bread, cheese, and salad with dressing. #fyrefestival pic.twitter.com/I8d0UlSNbd

— Tr3vor (@trev4president) April 28, 2017
And if that wasn't bad enough, festival-goers reported being stranded and unable to leave the site.
Stuck at #fyrefestival trying to leave for the last 8 hours. barley any food or water or security or electricity pic.twitter.com/jHPMnJw5gx

— Lamaan (@LamaanGallal) April 28, 2017
Twitter has since rushed to share their own reactions to the festival, with some comparing it to Lord Of The Flies and The Hunger Games, and others admitting they found it funny.
Which District is winning the Annual #fyrefestival ? pic.twitter.com/CRc76G8stI

— Kyle (@ChunkTusk) April 28, 2017
Expectation vs reality #fyrefestival pic.twitter.com/wIXVvCljRC

— moshiiino (@moshiiino) April 28, 2017
Yo ...

I'm looking at all these #FyreFestival tweets, and IMMEDIATELY thought of this...pic.twitter.com/CsNRPJOpZg

— Ziggy (@colortheghost) April 28, 2017
Latest scenes at #fyrefestival pic.twitter.com/VPCyZvthaT

— Adam N. Fleming (@AdamNFleming) April 28, 2017
When you always get salty at these rich kids on the internet and then you peep #fyrefestival pic.twitter.com/OzyErKUjkO

— ㅤㅤㅤ (@DouViie) April 28, 2017
I've run music festivals in Brockton, Ogdenville, and North Haverbrook, and by gum it put them on the map! #fyrefestival pic.twitter.com/KVwL66Mxxc

— TRL (@TRLsc) April 28, 2017
One joker even asked Gordon Ramsay to rate the food.
Hey @GordonRamsay what would you rate #fyrefestival gourmet meals? pic.twitter.com/SYJIgwAIYp

— Rain Man (@omgRainMan) April 28, 2017
William Finley, from North Carolina, paid $2,700 for a ticket he thought would entitle him to food, an open bar and overnight villas.
He told Billboard: "They're basically disaster relief tents, with a mattress on some sort of bed frame. They're not that uncomfortable but the tents are so poorly made that they'd blow over in a second if there was any wind or rain".
A statement from the festival's official Instagram account begins: "Things got off to an unexpected start at day one of Fyre Festival."
See the full statement here: