LISTEN: Sounds Like Fyre Festival Staff Won't Be Getting Paid
12 May 2017, 12:56 | Updated: 12 May 2017, 18:34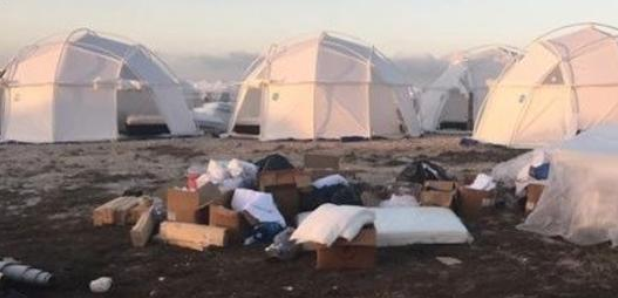 The latest chapter in the Fyre Festival saga sees the leak of a conference call between Ja Rule, 25-year-old founder Billy McFarland and their employees.
Just when you thought there couldn't possibly be any more epic fails to come from Fyre Festival, the universe gives us one more.
Last month, the boutique Bahamas festival - which sold packages costing up to $13,000 (£10,000) - trended after massively falling short of its claims, and greeting their customers with the likes of this:
That's right folks for just $10k, you too can have the "refugee fleeing war torn region" treatment at #fyrefestival pic.twitter.com/RqYzGq0Yg5

— Garrett Garner (@garrettgarner12) April 28, 2017
Now, audio of an internal call has been obtained by Vice News which appears to show the creators of the so-called luxury event discussing employees' payment... or rather lack thereof.
In a conference call between rap star Ja Rule, 25-year-old founder Billy McFarland and employees, McFarland can be heard saying: "After conferring with our counsel and all financial people, unfortunately we are not able to proceed with payroll immediately for the company."
He adds: "We're not firing anyone, we're just letting you know that there will be no payroll in the short term...I understand that this is not an ideal situation for everybody, and this will likely cause a lot of you to resign, which we totally get and understand. That said, if you want to stick with us, we'd love to have you and we'd love to work together and hunker down and get back to a place where everything resumes to business as usual as usual."
Listen to the full audio via Vice News here.
Photo: Twitter/Twitter/@keem773
Get all of the Fyre Festival fall-out below: