Fyre Festival Lawyers Reportedly Threaten Festival Goer With Legal Action
2 May 2017, 14:38 | Updated: 2 May 2017, 17:59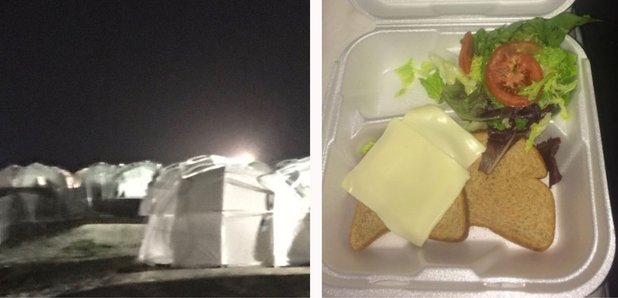 According to reports, at least one customer live-tweeting the chaos over the weekend was sent a cease and desist letter.
Fyre festival trended last week, after scenes of its inadequately-prepared event surfaced across social media.
Despite it having to be "fully postponed" with customers told to sign forms in order to be offered refunds, fresh reports have suggested that Fyre lawyers have been threatening those who live-tweeted their experiences of the event.
According to TMZ, lawyers have sent a "cease and desist" letter to at least one of those who flew to the Bahamas for the festival, saying their statements were "untrue" and "could incite violence, rioting or civil unrest".
The outlet adds that the letter also contained the warning: "If someone innocent does get hurt as a result [of your postings] Fyre Festival will hold you accountable and responsible," adding, "Inciting violence crosses the line."
The latest scandal comes as festival-goers report being offered a choice between a full refund and VIP tickets to next year's festival.
just fyi: Fyre Festival customers can forgo a refund in exchange for VIP passes to next year's festival :) pic.twitter.com/nUWWlpKX9R

— Joe Coscarelli (@joecoscarelli) May 1, 2017
Last week saw punters turn up to the boutique festival, which sold packages costing up to $13,000 (£10,000), with what some described as half-made "disaster relief" tents, no beer, and barely any food or water.
That's right folks for just $10k, you too can have the "refugee fleeing war torn region" treatment at #fyrefestival pic.twitter.com/RqYzGq0Yg5

— Garrett Garner (@garrettgarner12) April 28, 2017
After hours of chaos, the event finally made the decision to cancel their event, writing: "Fyre Festival set out to provide a once-in-a-lifetime musical experience on the islands of Exuma. Due to circumstances beyond our control, we must postpone this experience. We are working tirelessly to ensure each guest leaves the island safely and ask for everyone's patience and cooperation as we continue to provide ongoing updates via email and our official social media channels as they become available, including refund information."

See some of the biggest reactions to the festival here: