Festival Stand-Ins: When The Headliner Doesn't Show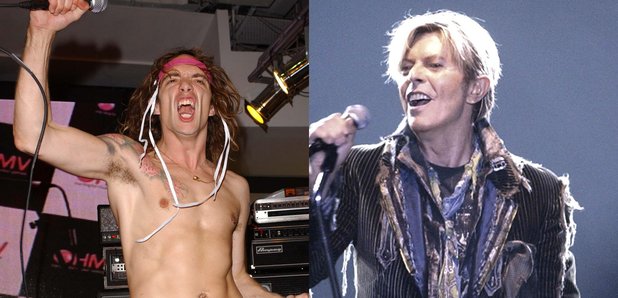 Remember when David Bowie cancelled his T In The Park slot and instead, punters got... The Darkness. Ouch. What other famous festival replacements have there been?
Florence And The Machine in for Foo Fighters
You'll no doubt remember Dave Grohl taking a tumble from the stage during a show in Sweden and busting his leg up good and proper. This put paid to the Foos headlining Glastonbury a couple of weeks later, meaning old Flo and her crew had to step up and take the top spot on the Friday night at 2015's festival. The Foos are BACK in 2017 to finish the job.


The Darkness in for David Bowie
In 2004 Justin Hawkins and his poodle rock revivalists were bumped to headliners on the Saturday night at T In The Park in Scotland. The superstar had suffered a pinched nerve in his shoulder while on tour in Germany. He would retire from live performance shortly afterwards. Would you have been disappointed?
Lily Allen in for Two Door Cinema Club
The Northern Irish trio were "stoked" to be playing their first festival headline slot, but had to pull out due to illness. Lily stepped in and paid tribute to the lads.
Gorillaz in for U2
Glastonbury 2010 saw Damon Albarn and his cartoon crew deputise for U2 as Bono had suffered a back injury. Gorillaz headlined the Pyramid Stage on the Friday night, but the '2 finally got their chance the following year.
Pulp in for The Stone Roses
As part of their Great Comeback for their Second Coming album, the Roses were due to play Glastonbury's Pyramid Stage. But guitarist John Squire had broken his collarbone in a mountain biking accident - he left the band not long after. Jarvis Cocker and Pulp did the decent thing and stood in.


Ash in for Steve Winwood
One of the muddiest Glastonbury festivals on record saw Sunday night headliner Steve Windwood pull out. Fans were denied the chance to hear classics such as Valerie and, er, Higher Love and had to put up with a no-nonsense hits barrage from Tim Wheeler and co. Hooray!


Basement Jaxx in for Kylie
Another Glastonbury Sunday night headliner cancellation: Ms Minogue had to forsake Worthy Farm as she was having treatment for breast cancer. Basement Jaxx were the unlikely stand-ins, and covered Can't Get You Out Of My Head in her honour. Thankfully, Kylie was well enough to perform at Glasto five years later.
Snow Patrol in for Oasis
2009 was the year that rumours flew around the world that Noel Gallagher was going to go solo. When the band cancelled V Festival, saying that Liam had contracted viral laryngitis, some were worried that the end was nigh. They were right - a month later in Paris, Noel officially left and Oasis were no more. Meanwhile, at V, Snow Patrol stepped into the breach and covered Wonderwall and Champagne Supernova. Nice!