WATCH: Aerosmith Make Final UK Appearance At Download 2017
12 June 2017, 13:49 | Updated: 17 August 2017, 14:19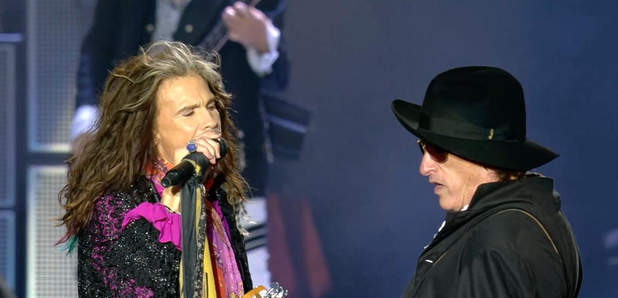 The rockers closed the festival on Sunday night, dedicating Dream On to the victims of the London and Manchester attacks as Liv Tyler looked on.
Aerosmith closed Download 2017 this weekend, making their last ever UK appearance at the festival.
See our clip from Download here:
The legendary rockers performed their biggest hits including Love in an Elevator, Dude (Looks Like a Lady) and Dream On as Liv Tyler sung along from the side of the main stage.
During the two-hour set of 18 songs, Steven, 69, dedicated 1973 classic Dream On to the people who lost their lives and were affected by the terrorist attacks in London and Manchester.
He said: "It is amazing how quickly a dream can turn into a nightmare, right? I'm so sorry for the nightmares England has gone through lately. Not to mention the ones that we all go through daily. But, remember when you dream good dreams, they are good for the whole world. Aerosmith is dreaming with. Dream on baby."
Meanwhile, guitarist Joe Perry, 66, was on form and looked in good health despite last July's stage collapse mid-concert, after which he was hospitalised for dehydration and exhaustion.
Highlights of the set included I Don't Want to Miss a Thing as the clouds darkened the night sky and the finale of Walk This Way-their hit collaboration with Run DMC.
See Aerosmith's Download set below:
Let the Music Do the Talking
Young Lust
Cryin
Livin' on the Edge
Love in an Elevator
Janie's Got a Gun
Stop Messin' Around
Oh Well (Fleetwood Mac cover)
Mama Kin
Hangman Jury
Seasons of Wither
Sweet Emotion
I Don't Want to Miss a Thing
Rag Doll
Come Together (The Beatles Cover)
Dude (Looks Like a Lady)
Encore:
Dream On
Mother Popcorn
Walk This Way