What Are YOUR Favourite Valentine's Day Tunes?
14 February 2017, 19:54 | Updated: 9 August 2017, 10:14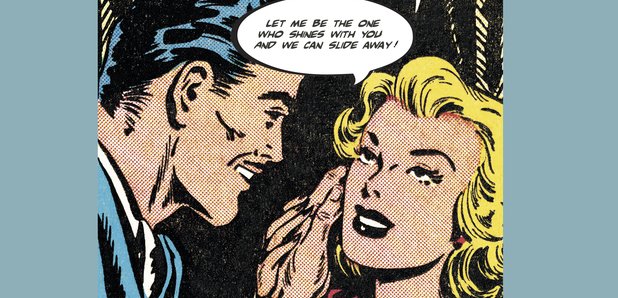 A couple of weeks ago, Radio X asked YOU to nominate your favourite songs for a very special Valentine's Day playlist…
We wanted to know which songs were a sure-fire winner to win the heart of your loved one... and if they worked! You didn't disappoint.
Thank you to everyone who sent us a song suggestion and a story. We've compiled the most popular tunes and some of the best anecdotes and memories and here they are (in strictly alphabetical order).
Aerosmith - Don't Wanna Miss A Thing
This epic Steve Tyler ballad, used in the film Armageddon, has its fans. Ellen Shepherd from Shefford says: "When I first met my husband we went to a karaoke night and he sang this to me, it was so awful that it was brilliant. We have been married 11 years now and it is still our favourite song"
Arctic Monkeys - Baby I'm Yours
Originally recorded in 1965 by Barbara Lewis, this classic was covered by Alex Turner on the b-side to Leave Before The Lights Come On. "The lyrics for this are pretty spot on," says Neve Grocott from Newcastle. "They describe what it's like to be falling in love. Alex Turner's voice is like silk."
Blink-182 - I Miss You
Louise Peers of Todmorden confesses: "When this came out I was 15/16 wore huge baggie skater jeans, massive skate shoes… I absolutely believed that it was written about me and managed to convince my boyfriend at the time it was 'our' song. I've grown up a lot now!"
Bon Jovi - Always
Textbook power-balladeering from the New Jersey lad. "It's a beautiful song that makes the hairs on your neck stand on end," says Janice Dunn in Glasgow.
Catfish And The Bottlemen - Cocoon
A true favourite with the Catfish clan - Joe Black of Macclesfield says ""I met my fiancee at Catfish And The Bottlemen and first kissed her during Cocoon!"… while Ben Kelly in Stoke says "The ultimate love song hands down... come on he'd rather go blind than let her down. Yes Van!"
Courteeners - Take Over The World
Liam Fray knows how to pluck at a heartstring - Jen Meakin from Ilkley says: "Me and my parter have been to countless Courteeners gigs together and both love the band, this was our first dance at our wedding." Also picking this favourite as a first dance was Emma Bickly in Stoke: "My now husband introduced me to the band and I have never looked back."
The Cure - Friday I'm In Love
This 1992 single from Robert Smith and co is a perennial favourite for those in a long-distance romance, but George Kitchin of Tonbridge has this great tale: "At my local pub, I used to really fancy the bar lady who worked every Friday night. Which resulted in me going up the pub every Friday getting hammered and trying to talk to her. That bar lady is now my girlfriend of 2 years!"
Delays - Valentine
There's been a lot of love for this 2006 song after it was announced that Delays singer Greg Gilbert was seriously ill with cancer and needed to raise funds for treatment. A campaign was started to get the track to Number 1. "It's a beautiful song by a beautiful band - the perfect song for February 14th," says Jodie Copeland from Southampton.
Foreigner - I Want To Know What Love Is
An enormous 80s rock ballad that got a lot of non-ironic love: "It's the best love song ever - it sends shivers down my spine," says Joanna Butler-Savage of Leeds.
Goo Goo Dolls - Iris
The US alt-rockers are best known for this song, which featured on the soundtrack to the 1998 film City Of Angels. Rhys Hughes of Pontypridd says: "It's the ultimate song for serenading your loved one partnered with the ultimate 'get close' soppy film!"
The Maccabees - Toothpaste Kisses
This super-romantic ditty from 2008 has a special significance as the London band are about to play their final shows this summer. Jake Hewlett from Bristol puts it perfectly: "You're listening and you feel like you're inside Orlando's mouth... I mean who doesn't want to be inside somebody's mouth on Valentine's Day?!"
Madness - It Must Be Love
Andy Stevenson in Wigan says of Suggs and co's 1982 classic: "I don't think any other song encapsulates the feeling of first love any better, it's musically brilliant and relatable to anyone who has been madly in love!"
Oasis - Slide Away
One of Noel's most relatable lyrics for a lot of people: Georgina Grose in Manchester says: "I'd heard the song hundreds of times before, iI only really realised what it was describing when I met my partner. He's given me everything I was lacking and made me complete, we've definitely slid away.
Oasis - Songbird
Another Mancunian classic, this time from the pen of L. Gallagher "I like to think I'm my husband's songbird!" laughs Jessica Webb in Norwich. "Also the lyrics are beautiful and it is refreshing to think that someone like Liam Gallagher has a softer side."
The Smiths - There Is A Light That Never Goes Out
Morrissey's tale of a hopeless, desperate romantic is one of the band's greatest tracks and you appreciate the lovelorn humour. Molly Wilby says: ""It makes me nostalgic and reminds me of being with my ex boyfriend. The song is full of beautiful lyrics." Zachary Malpass chose it because "I met my now girlfriend at 42's in Manchester singing this to her, worst singing ever, but she somehow loved it!"
Zachary Malpass, Bolton
Snow Patrol - Chasing Cars
One of Gary Lightbody's most tender moments is a hugely popular ballad. Amanda Attwood in Oxon says: "It is just so powerful and goes beyond the over use of 'I Love You' to soak of something deeper and longer lasting."
The Stone Roses- Ten Storey Love Song
The Roses' epic ballad is popular at weddings: "Me and my husband walked back up the aisle to this song after we got married, says Emma Gaskell in the Wirral and Justine Agnew in Manchester horrified her family by picking it: "They were all waiting for a cheesy classic! But David Greenhalgh of Colwyn Bay nails its appeal: "The lyrics.... No plastic fake red roses and meaningless heart imagery a real life tune about real life love by a top top group."
The Wannadies - You And Me Song
Andrea Grime of Bolton recalls: "We walked out of church after we got married to this song, almost 12 years ago. Perfectly sums us up. "
Paul Weller - You Do Something To Me
Oh Weller, is there nothing you can't do? Hilary Shaw in Colne remembers: "To announce that my (then) best friend was in love with me, he made me a mixtape and this was track one on it. Seven years later and it still brings happy tears!" Meanwhile, Laura Pritchard in Kidlington also has good memories: "It basically encapsulates the heady romance of the Summers at my 6th Form!"
Wolfman featuring Pete Doherty - For Lovers
What a lovely way to end Valentine's Day… "This was my wedding song, for our first dance. And we're still married! First baby due in a matter of days." Good luck, Amy Moran in Watford!