These are the most popular Christmas songs of all time
25 December 2020, 09:00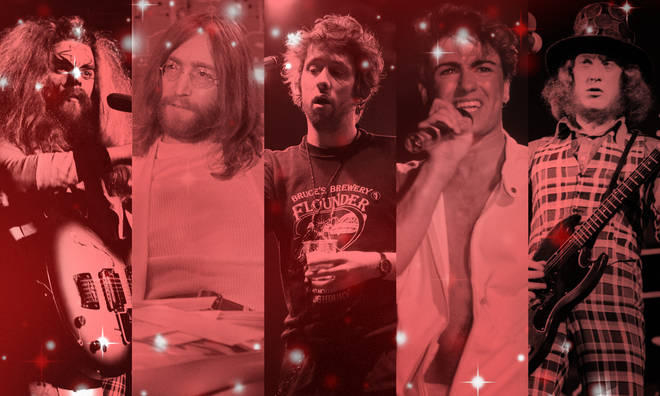 New research has revealed which festive tunes have been the most listened to over the years - and which song has been given the most plays.
Christmas time is upon us - which means seasonal songs can be heard on every corner, and your shopping trips will be soundtracked by the likes of Wizzard, Band Aid, Elton John, Slade, Shaky and all the usual suspects.
But which one of these festive favourites will you hear the most?
PRS - the Performing Rights Society, who track plays of songs on TV and radio - issued some research in 2019, which revealsd Brits' favourite top 20 Christmas songs:
Britain's Top 20 Favourite Christmas Songs
The Pogues featuring Kirsty MacColl - Fairytale Of New York

This well-loved but occasionally controversial festive song was first realeased in 1987.

Wham! - Last Christmas

The late George Michael and his musical partner Andrew Ridgeley released this seasonal classic in 1984.

Slade - Merry Xmas Everybody

Noddy Holder's evergreen Christmas tune was originally issued in 1973 and has been around ever since.

Bing Crosby - White Christmas

Made famous by the film Holiday Inn, this eternal song first topped the US charts in 1942!

Wizzard – I Wish It Could Be Christmas Every Day

Roy Wood's sleigh-belled strewn song went head to head in the charts with Slade's Merry Xmas Everybody in 1973.

Mariah Carey – All I Want For Christmas Is You

Mariah recorded a whole album of Christmas songs in 1994 but this favourite only topped the US charts in December 2019.

Chris Rea - Driving Home For Christmas

Rea's seasonal ode to travel only made No 53 on its original release in 1988, but has remained popular ever since.

Band Aid - Do They Know It's Christmas?

Still a landmark Christmas song - the stars of 1984 came out to raise money for the Ethiopian famine relief fund.

Greg Lake - I Believe In Father Christmas

The singer-songwriter - and member of prog legends Emerson Lake & Palmer - was kept off the Number 1 spot in 1975 by the mammoth Bohemian Rhapsody.

Johnny Mathis - When A Child Is Born

The veteran US singer's festive yarn is based on the Italian hit Soleado.

Boney M - Mary's Boy Child (Oh My Lord)

After having a mammoth year in 1978 with hits like Rasputin, the German disco group topped the Christmas charts with this medley.

East 17 - Stay Another Day

British boy band East 17 rolled out the furs and fake snow in 1994.

Nat King Cole - The Christmas Song (Chestnuts Roasting On An Open Fire)

Originally written in 1945, the most famous version of this classic was by the much-loved US singer Nat "King" Cole in 1953... and again in 1961, but this time in stereo!

John Lennon and Yoko Ono / Plastic Ono Band - Happy Xmas (War is Over)

Originally recorded in 1971, this didn't get a release in Lennon's native UK until a year later. The song became more poignant when the former Beatle was killed shortly before Christmas 1980.

Shakin' Stevens - Merry Christmas Everyone

This was to be the last chart-topper for the Welsh Elvis when he triumphed at Christmas in 1985.

Frankie Goes To Hollywood - The Power Of Love

The Liverpool enjoyed their third consecutive chart-topper in 1984 with this holy hit - but had to make way for the charity Band Aid.

Aled Jones - Walking In The Air

This song was originally performed by choirboy Peter Auty in the animated film The Snowman, but when his voice broke, Aled Jones took over to re-record the composition for commercial release.

Bing Crosby and David Bowie – Little Drummer Boy (Peace On Earth)

Bing met Bowie on the set of the fomer's festive TV special Bing Crosby's Merrie Olde Christmas. The Starman didn't think much of Little Drummer Boy, so a counterpoint was quickly composed to showcase his voice.

Jona Lewie - Stop The Cavalry

Stiff Records star John Lewis aka Jona Lewie has spent the last four decades enjoying the royalties of this war-and-peace themed classic.

Cliff Richard - The Millennium Prayer

Miseltoe And Wine may be more Christmassy, but Sir Cliff saw in the 21st Century with this reworking of the traditional Auld Lang Syne.
And, if that's not enough, according to the new research, polling 2,000 Brits, 4 in 10 (41%) of Brits say hearing Christmas music gets them into the festive spirit. Woo hoo!