What are the greatest guitar riffs of all time?
30 December 2021, 20:00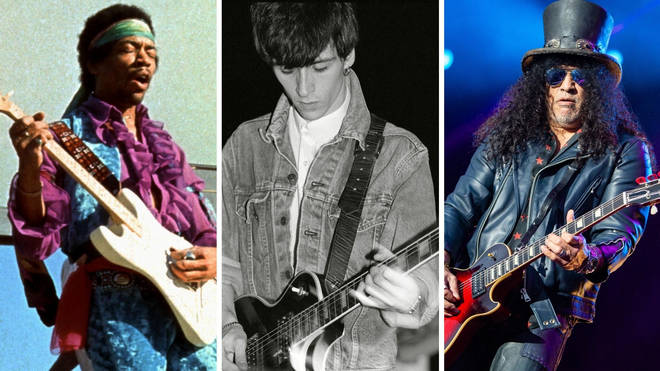 We here at Radio X love a good riff. Let's take a look at some of the greatest axe moments that can be copied the world over on air guitar.
Guns N' Roses - Sweet Child O' Mine

The minute Slash chimes in with this unforgettable riff, you know you're in the presence of rock greatness. The rest of the song is almost an afterthought.

AC/DC - Back In Black

The riff as a blunt instrument. AccaDacca bounced back from the death of original singer Bon Scott  with a new yelper, Brian Johnson, and this legendary stonker. It's almost impossible to sing along, but incredibly easy to so the Angus Young heads-down thrash.

Nirvana - Smells Like Teen Spirit

A simple wacka-wacka riff, but one that changed the world.

The White Stripes - Seven Nation Army

Jack White astounded the world when delivered this pounding riff that opened the Elephant album.

The Smiths - This Charming Man

Knocked out by Johnny Marr one afternoon, the combination of a memorable intro and looping main riff created an instant classic.

Jimi Hendrix - Purple Haze

The master. Jimi was far too good a musician to stick to one mindless riff for the duration of a song, but he could pick out a monster riff and use it perfectly. Thousands, if not millions, of guitarists were influenced by him

Queens Of The Stone Age - No One Knows

Josh Homme virtually attacks his guitar on this classic QOTSA track.

The Rolling Stones - (I Cant' Get No) Satisfaction

Keith Richards turns up the dirty distortion for this tale of one man's battle to have a good time.

Led Zeppelin - Whole Lotta Love

Nagging blues boogie par excellence from Jimmy Page on this Zeppelin classic.

Smashing Pumpkins - Today

Billy Corgan claimed that the memorable, ringing riff that opens Today was the very LAST part of the composition to be written.