The Best Break-Up Songs Of All Time
17 June 2018, 10:30 | Updated: 17 June 2018, 10:31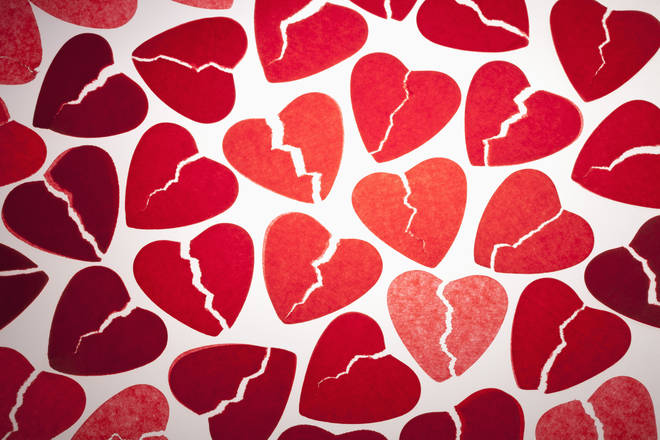 Love life not going to plan? Here are some of the bitterest, most moving breakup songs in indie and rock history to get you through the pain...
Gotye - Somebody I Used To Know

"Well you said that we would still be friends / But I'll admit that I was glad that it was over." Time to pack your books and records up, Kimbra.

The Cure - Boys Don't Cry

"I would say I'm sorry / If I thought that it would change your mind." Yeah, but it won't will it? Better get over it.

The xx - Say Something Loving

"I just don't remember the thrill of affection…" SOMEONE forgot Valentine's Day.

The Streets - Dry Your Eyes

"Dry your eyes mate, / I know it's hard to take but her mind has been made up, / There's plenty more fish in the sea." Mike Skinner is the best mate you could ever have.

Oasis - Stop Crying Your Heart Out

"Take what you need / And be on your way / And stop crying your heart out." Some sobering advice from Liam, who knows a thing or two about a break-up.

The Vaccines - Post Break-Up Sex

"Post break-up sex / That helps you forget your ex / What did you expect / From post break-up sex?" Justin Young explains why you shouldn't go there.

Blur - No Distance Left To Run

"I won't kill myself, trying to stay in your life / I got no distance left to run." One of the bleakest break-up songs ever... but with a hint of redemption.

Foo Fighters - Best Of You

"I've got another confession my friend, / I'm no fool, / I'm getting tired of starting again, / Somewhere new." Big Dave has finally had enough.

The Smiths - I Know It's Over

"As I climb into an empty bed / Oh well, enough said." Morrissey faces the uncomfortable truth.

Coldplay - Shiver

"From the moment I wake, / To the moment I sleep, / I'll be there by your side, / Just you try and stop me, / I'll be waiting in line, / Just to see if you care."

Arctic Monkeys - Leave Before The Lights Come On

"How can you wake up, / With someone you don't love? / And not feel slightly fazed by it." Alex Turner (metaphorically) slaps you round the chops.

Ben Howard - Keep Your Head Up

"Keep your head up, keep your heart strong. / Keep your mind set, keep your hair long." Long hair will get you through this one.

Maximo Park - Books From Boxes

"You have to leave. I appreciate that, / But I hate when conversation slips out of our grasp." Paul Smith struggles with the small stuff.

Joy Division - Love Will Tear Us Apart

"When routine bites hard / And ambitions are low / And resentment rides high / But emotions won't grow." Well, that sounds like the end of that, then.

Paolo Nutini - One Day

"You ask me to remember / A kiss is but a kiss / Well I'd be a fool to want more from you / And I'm gone in a while." SEE YA, says Paolo.

Muse - Time Is Running Out

"I wanted freedom, / Bound and restricted, / I tried to give you up, / But I'm addicted." Come on, Matt Bellamy. You're better than this.

Bon Iver - Skinny Love

"In the morning I'll be with you, / But it will be a different kind, / I'll be holding all the tickets / And you'll be owning all the fines." Brutal stuff from Justin Vernon.

Amy Winehouse - Back To Black

"You went back to what you knew / So far removed from all that we went through / And I tread a troubled track / My odds are stacked / I'll go back to black." The queen of the "troubled track" with one of her finest songs.

Beck - Guess I'm Doing Fine

"It's only lies that I'm living / It's only tears that I'm crying / It's only you that I'm losing / Guess I'm doing fine." From the best break-up album EVER, Sea Change.

Placebo - The Bitter End

"In six week's time / The mess you left / Will end / See you at the bitter end." It's good to put a time limit on these things, says Brian Molko.

Frank Turner - Recovery

"And I've been waking in the morning just like every other day / And just like every boring blues song I get swallowed by the pain." FT goes off the rails spectacularly. But he'll get there, eventually.