The best indie songs for New Year's Eve at home
31 December 2021, 09:00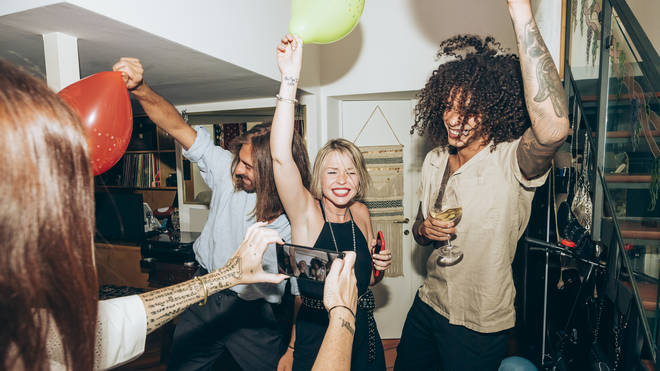 Let our Radio X live playlist of indie club bangers take you through to 2022.
New Year's Eve 2021 is going to be another strange one, with a lot of people staying in rather than going out.
Whether you're spending NYE with your family, your housemates, or if you're on your own, it doesn't mean you can't celebrate.
So, let Radio X help you welcome in the new year in these strange and testing times with our playlist of absolute indie bangers!
Listen to some of the most infectious NYE indie tunes in our Radio X Indie Nights Live Playlist.
Get our rundown on some of the biggest NYE bangers below:
The Killers - Mr Brightside

We may be dancing, but inside we're crying.

Jamie T - Sticks & Stones

The classic floor-filler from Mr Jamie Treays.

Oasis - Supersonic

Tambourine-shaking optional.

Bloc Party - Helicopter

You need to be on the danceflorr within a split second of this tune starting.

The Stone Roses - Waterfall

Tonight we're gonna party like it's 1989.

Empire Of The Sun - Walking On A Dream

Blissed out synth-pop from the Aussie duo.

Courteeners - Not Nineteen Forever

Get your hand off my thigh!

The Wombats - Let's Dance To Joy Division

Let's dance to Let's Dance To Joy Division.

The Dandy Warhols - Bohemian Like You

Woo-hoo-hoo!

Pulp - Disco 2000

Was 2000 really that long ago? Yes. Yes, it was.

The Libertines - Don't Look Back Into The Sun

Time to hang onto your best mate for dear life.

Nirvana - Smells Like Teen Spirit

Get ready for the moshpit.

Blur - There's No Other Way

Baggy shuffle par excellence

Franz Ferdinand - Take Me Out

Big intro then crafty time change. Don't get caught out!

Kasabian - Club Foot

Tom 'n' Serge, we love you.

The Charlatans - The Only One I Know

Feel that groovy Hammond organ sound.

The Strokes - Last Nite

The skinny-jeaned strut.

Arctic Monkeys - I Bet You Look Good On The Dancefloor

Storm the dancefloor now! (Safely)

Foals - My Number

Absolute banger that has us looking forward to the summer festival season already.

Vampire Weekend - A-Punk

One of the most brilliant intros ever.

Happy Mondays - Step On

Baggy wonderment.

New Order - Blue Monday

Seven minutes of sour-faced dancing. Tsst tsst tsst tsst!

The Smiths - This Charming Man

You need to flail around the dancefloor to this one, hand across the forehead.