Dry Jan Is Over! Get 10 Great Songs Dedicated To The Sesh
2 February 2018, 16:58 | Updated: 1 February 2019, 12:55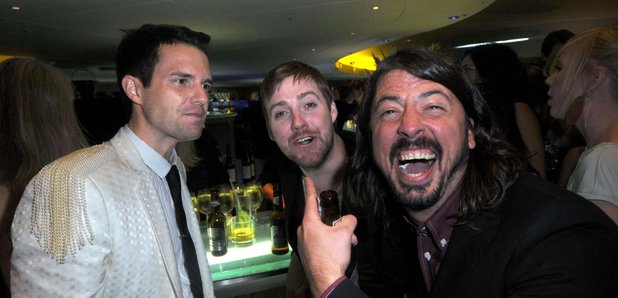 Celebrate the first weekend after Dry January with these tunes get you in the party mood. DRINK RESPONSIBLY.
If you've managed to go 31 days without booze and you're heading out tonight to celebrate, let these tunes get you in the party mood.
1. The Housemartins - Happy Hour
Let's get things started with some cheap drinks in this horrible bar in the city.

2. Beastie Boys - Brass Monkey
Let's have a cocktail, shall we? A brass monkey is a mix of dark rum, vodka and orange juice and was an early "pre-mixed" drink you could buy in a can. Sounds horrible.

3. Alabama Song (Whisky Bar)
Written by German playwright Bertolt Brecht, recorded by The Doors and also covered by the Thin White Duke himself. Oh don't ask why.

4. Oasis - Champagne Supernova
Noel and Liam keep it classic with their champagne socialist lifestyle.


5. Terrorvision - Tequila
It makes us happy!

6. Chumbawamba - Tubthumping
"He drinks a whiskey drink, he drinks a vodka drink, he drinks a lager drink, he drinks a cider drink…" You really shouldn't mix your drinks mate.


7. Underworld - Born Slippy
Lager lager lager lager…


8. The Killers - Leave The Bourbon On The Shelf
Part 1 of Brandon Flowers' "Murder Trilogy" that culminates in Jenny Was A Friend Of Mine. Another reason why you shouldn't get too tanked up.

9. Splodgenessabounds - Two Pints Of Lager And A Packet Of Crips
One man's struggle to get served at a busy bar. Great name for a TV comedy series.


10. Guns N'Roses - Nightrain
A hymn to the particularly hardcore "fortified wine" that is Night Train Express (17.5% ABV), this song was dreamed up on the spot by the GN'Rs as they were walking along the street chugging a bottle of this unpleasantness. "I'm on the nightrain, ready to crash and burn," yelps Axl Rose - and he's not joking.
And remember - don't ruin your night out by overdoing it.
Visit www.drinkaware.co.uk for all the facts on drinking.
Photo credit: Zak Hussein/PA Archive/PA Images