Happy birthday Triple H! These Are The 10 Best Wrestling Theme Songs Ever
27 July 2016, 10:18 | Updated: 17 June 2020, 12:40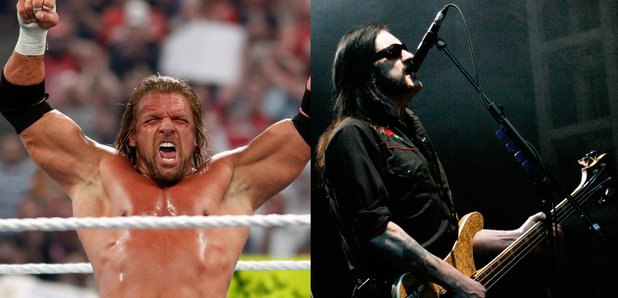 It's Triple H's birthday so let's celebrate the best thing about the sport/sweaty soap opera that's given us Stone Cold Steve Austin, Bret Hart and that scary clown guy. Wrestling's greatest gift to the world is not The Rock's eyebrow, it's the surprisingly brilliant music that signals your favourite grappler is on the way to the ring to open a can of whoop-ass…whatever that is.
10. BRET HART
The king of 1990s wrestlers has a theme that somehow already sounded dated on January 1st, 1990. But the squealing guitar intro is so fantastically cheesy, it's an undeniable joy.
9. CHRIS JERICHO
It's the countdown that makes it.
8. TRIPLE H
Incredibly, despite the dreadful lyrics to this song, Lemmy manages to forget them…and still rock out in this fantastic WrestleMania performance.
7. MACHO MAN RANDY SAVAGE
From one great Brit to another, Elgar provides the soundtrack to one of the most bonkers, charismatic wrestlers of the 1980s and 1990s: Macho Man Randy Savage. Only he could pull this off.
6. CM PUNK
This clip shows how wrestling themes should work during a show. Loud, dramatic and interrupting a very muscular man in a ring, acting badly. Living Colour provided CM Punk's Cult of Personality theme that made him the hipster wrestler of choice for the 2010s.
5. THE ROCK
Before the rest of the world loved him, wrestling fans loooooved The Rock. It's not the most exciting theme song around, but when fans hear his voice intro, they go bananas and it's properly electrifying.
4. ULTIMATE WARRIOR
Because it was bonkers, just like him.
3. THE UNDERTAKER
Let's ignore those dodgy years when he stopped being scary and started coming to the ring soundtracked by Limp Bizkit, this theme is the version of The Undertaker we know and have nightmares about. He made his debut in 1991 and is wrestling this year in the most exciting match on the WrestleMania card.
2. DX
Yes, it's a bad session band pretending to be Rage Against The Machine - but it's still an amazingly cool song, even now.
1. STONE COLD STEVE AUSTIN
Worth it for the first two seconds alone.