What Was Christmas Number 1 When You were Born?
22 December 2017, 13:38 | Updated: 22 December 2017, 13:39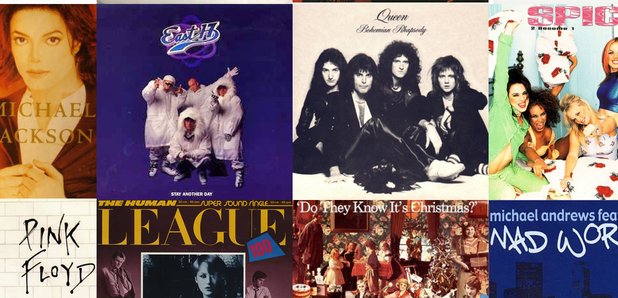 Ever wondered what was topping the charts over the festive period when you were a tiny babe? Radio X has all the answers: were you a Bo Rhap or a Mr Blobby?
The list of Christmas Number 1s is long and varied. But which song was at the top of the charts for your first Christmas? Here's the full list from last year, right back to when the charts started in 1952.
2016 Clean Bandit - Rockabye
Sean Paul joins in on this genre-mixing special.
2015 The Lewisham And Greenwich NHS Choir - A Bridge Over You
Charity mash-up of the Simon And Garfunkel classic and Coldplay's Fix You.
2014 Ben Haenow - Something I Need
That year's X-Factor winner, covering a song by One Republic.
2013 Sam Bailey - Skyscraper
Another X-Factor winner, this time covering a Demi Lovato hit.
2012 The Justice Collective - He's Aint' Heavy, He's My Brother
Macca, Mel C, Robbie Williams, Paloma Faith and more cover The Hollies to raise money for Hillsborough disaster charities.
2011 Military Wives With Gareth Malone - Wherever You Are
Charity spin-off from the TV series The Choir - it kept Little Mix off the top.
2010 Matt Cardle - When We Collide
X-Factor winner unexpectedly covers Biffy Clyro…
2009 Rage Against The Machine - Killing The Name
Online campaign against reality TV show winners gets this sweary classic to the top.
2008 Alexandra Burke - Hallelujah
X-Factor winner, now Strictly Come Dancing contestant, covers Leonard Cohen via Jeff Buckley.
2007 Leon Jackson - When You Believe
X-Factor winner for 2007 triumphs.
2006 Leona Lewis - A Moment Like This
X-Factor winner of the year covers Kelly Clarkson.
2005 Shayne Ward - That's My Goal
X-Factor winner, now in Coronation Street! Maybe that WAS his goal.
2004 Band Aid 20 - Do They Know It's Christmas?
The fourth outing for the song, this time with Chris Martin, Dido, The Darkness and a rap from Dizzee Rascal.
2003 Michael Andrews and Gary Jules - Mad World
The Darkness's Christmas Time (Don't Let The Bells End) was kept off the top spot by this Tears For Fears cover from the Donnie Darko soundtrack.
2002 Girls Aloud - Sound Of The Underground
Winners of the reality TV show Popstars: The Rivals. Excellent microphone technique.
2001 Robbie Williams And Nicole Kidman - Somethin' Stupid
Superstar cover of the song made famous by Frank and Nancy Sinatra.
2000 Bob The Builder - Can We Fix It?
Neil Morrissey kept Westlife off the top with this bulding-centric classic.
1999 Westfile - I Have A Dream/Seasons In The Sun
The lads hit the top with a couple of 1970s covers, one's an Abba one.
1998 Spice Girls - Goodbye
Girl Power bids a fond farewell with their third Christmas Number 1 in a row.
1997 Spice Girls - Too Much
They did it again! In the official year of Girl Power and the Spiceworld movie.
1996 Spice Girls - 2 Become 1
The girls hit the top for their first in a run of three with this romantic ballad.
1995 Michael Jackson - Earth Song
Jacko kept The Beatles' reunion song Free As A Bird off the top spot.
1994 East 17 - Stay Another Day
Not really a Christmas song, but a few chiming bells and a snowy video made this a festive classic.
1993 Mr Blobby - Mr Blobby
Yeah, this happened.
1992 Whitney Houston - I Will Always Love You
From the ENORMOUS soundtrack to the movie The Bodyguard, also starring Kevin Costner.
1991 Queen - Bohemian Rhapsody/These Are The Days Of Our Lives
After the death of frontman Freddie Mercury in November, this was a shoo-in for the festive top spot. Here's the Double A side.
1990 Cliff Richard - Saviour's Day
Sir Clifford notched up a second Christmas Number 1 with this religious entry.
1989 Band Aid II - Do They Know It's Christmas?
Or the "Stock Aitken And Waterman Edition": Kylie, Jason, Bananarama.. and Chris Rea?
1988 Cliff Richard - Mistletoe And Wine
Cliff reminds you of the true meaning of Christmas.
1987 Pet Shop Boys - Always On Mind
Fairytale Of New York didn't make it, this clubbed-up cover of Elvis Presley did.
1986 Jackie Wilson - Reet Petite
Thanks to a silly animated video, this 1957 rock 'n' roll classic made a comeback.
1985 Shakin Stevens - Merry Christmas Everyone
Shaky's era as one of the biggest-selling British artists was ending, but the country loved this festive ditty.
1984 Band Aid - Do They Know It's Christmas?
Bob Geldof and Midge Ure rustled up an all-star line-up including Duran Duran, Bono, Wham!, Spandau Ballet, Culture Club and more sang to raise money for the famine in Ethiopia.
1983 The Flying Pickets - Only You
Actors singing a hit by Yazoo acapella? It was incredibly popular and sums up the choral side of Christmas.
1982 Renee And Renato - Save Your Love
Proof that stupid Christmas Number 1s didn't start with Mr Blobby.
1981 The Human League - Don't You Want Me
Sheffield's finest electropop outfit with a tale of fame, fortune and love.
1980 St Winifred's School Choir - There's No One Quite Like Grandma
Kids + flattering a grandparent = Christmas Gold.
1979 Pink Floyd - Another Brick In The Wall (Part 2)
A rare single from the Floyd was the song that saw out the 1970s.
1978 Boney M - Mary's Boy Child/Oh My Lord
German disco legends cover the Harry Belafonte hit from 1957.
1977 Wings - Mull Of Kintyre/Girls School
Macca proved that he still had the golden touch with this inexplicably million-selling Scottish ode.
1976 Johnny Mathis - When A Child Is Born
Religious balladry from the veteran US singer. Everyone join in!
1975 Queen - Bohemian Rhapsody
Six minutes of perfection from the legendary band, given a boost by the memorable video.
1974 Mud - Lonely This Christmas
Glam Rock 'N' Roll revivalists with an excellent Elvis parody.
1973 Slade - Merry Christmas Everybody
Noddy Holder and co beat off stiff competition from Wizzard and I Wish It Could Be Christmas Every Day to be the top seller in '73. This song will live on forever.
1972 Jimmy Osmond - Long Haired Lover From Liverpool
The nans were out in force at Christmas '72 to buy this cheesy novelty from the youngest member of the Osmond clan.
1971 Benny Hill - Ernie (The Fastest Milkman In The West)
TV funnyman tells the novelty tale of milk-based crimes of passion.
1970 Dave Edmunds - I Hear You Knocking
Welsh rocker with a fine-sounding cover of the Smiley Lewis rock 'n' roll hit.
1969 Rolf Harris - Two Little Boys
The TV entertainer has now fallen from grace, so here's a punk cover of this tale of wartime friendship.
1968 The Scaffold - Lily The Pink
Paul McCartney's brother Mike and friends John Gorman and Roger McGough with a novelty tale.
1967 The Beatles - Hello Goodbye
Despite unleashing Magical Mystery Tour on an unsuspecting nation that Christmas, Macca also served up this classic.
1966 Tom Jones - The Green, Green Grass Of Home
No Beatles this Christmas, so The Voice stepped in with this sentimental classic.
1965 The Beatles - We Can Work It Out/Day Tripper
Released alongside the progressive Rubber Soul album, this is one of the Fabs' best singles.
1964 The Beatles - I Feel Fine
What's that horrible noise! An innovative intro to a great Beatles single.
1963 The Beatles - I Want To Hold Your Hand
The madness of Beatlemania took hold of the nation in '63 - this was the song that paved their way to America and beyond.
And here's the rest...
1962 Elvis Presley - Returns To Sender
1961 Danny Williams - Moon River
1960 Cliff Richard And The Shadows - I Love You
1959 Emile Ford And The Checkmates - What Do You Want To Make Those Eyes At Me For?
1958 Conway Twitty - It's Only Make Believe
1957 Harry Belafonte - Mary's Boy Child
1956 Johnnie Ray — Just Walkin' In The Rain
1955 Dickie Valentine - Christmas Alphabet
1954 Winifred Atwell - Let's Have Another Party
1953 Frankie Laine - Answer Me
1952 Al Martino - Here In My Heart