How did Bono come up with his stage name?
10 May 2022, 08:00
The U2 frontman has been known by his stage name since the '70s, but how did he come up with it and what does it mean?
Bono celebrates his birthday on 10 May and this year sees the Irish rocker turn 61.
Like Cher, Madonna and Beyonce, the U2 frontman is one of the few stars out there that only needs one name.
The With Or Without You rocker's moniker has been a part of his identity since the late 70s when the band was formed, but how did the now 61-year-old singer - whose real name is Paul David Hewson - get his stage name and what does it actually mean?
Find out the answer to this question and more below.
WATCH: U2's Bono performs new coronavirus-inspired song from home on St. Patrick's Day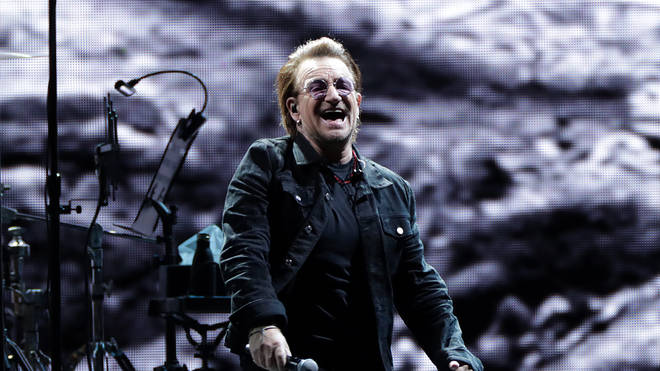 What is Bono's real name?
Bono's real name is Paul David Hewson.
How did Bono come up with his stage name and what does it mean?
It is reported that Bono was nicknamed Bono Vox as a teen in Dublin. Bono and his friends were part of a surrealist street gang named Lypton Village. They were all assigned nicknames and after a few were thrown around Hewson was dubbed Bono Vox of O'Connell street.
Reports suggested it was Bono's friend and collaborator Gavin Friday who originally named him Bono Vox, which he didn't like at first. However, he came to accept it after he was told it came from the Latin word Bonavox, which meant good voice. As confirmed on an article about U2's old haunts on www.ireland.com, Bona Vox was also the name of a hearing-aid store near where they grew up.
Why does Bono from U2 wear coloured glasses?
Bono has a condition called glaucoma, which he's suffered from for decades.
In an appearance on BBC One's Graham Norton Show, when asked by the titular host if he ever takes his shades off, the Elevation singer revealed: "This is a good place to explain to people [...] that I've had glaucoma for the last 20 years."
The rocker added jokingly: "You're not going to get this out of your head now and you will be saying, 'Ah, poor old blind Bono.'"
Glaucoma is one of many conditions which causes photophobia or light sensitivity and tinted, lightweight, wrap around glasses like Bono wears are known to alleviate it.
Is Bono's son in a band?
Bono's son Elijah Hewson is the lead singer in Dublin band Inhaler.
READ MORE: Anaïs Gallagher shoots My Honest Face video for Bono's son's band Inhaler
READ MORE: Everything you need to know about Inhaler, featuring Bono's son Elijah Hewson