WATCH: Are These The Best Songs About Days Of The Week?
15 January 2018, 10:30 | Updated: 15 January 2018, 10:45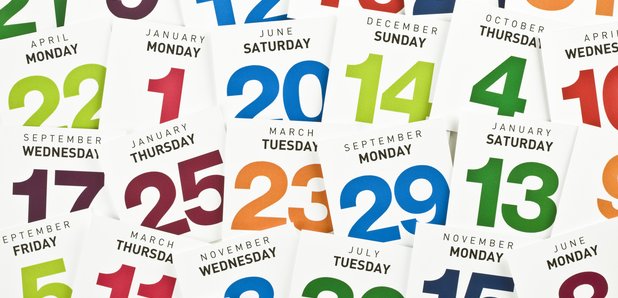 We mark Blue Monday with some of our best day-based bangers.
Watch our video of some of the best here.
Monday:
New Order - Blue Monday
From The Bangles to The Boomtown Rats- who doesn't like singing about Mondays? Blue Monday may be the only track on this list that doesn't actually include its title in the lyrics, but that makes it no less of a banger. Plus, the New Order track - which is an undeniable club hit - has probably contributed to a LOT of Blue Mondays since its release in 1983.


Tuesday:
The Rolling Stones - Ruby Tuesday
"Goodbye Ruby Tuesday/Who could hang a name on you?" The question on everyone's lips on a Tuesday, we're sure you'll agree. According to Keith Richard's Life autobiography, the lyrics were penned for his girlfriend Linda Keith, who had become heavily embroiled with Jimi Hendrix and the drug scene.


Wednesday:
The Beatles - She's Leaving Home
The Beatles may not include the day of the week in their title, but the first word uttered on the 1967 Sgt Pepper's Lonely Hearts Club Band track is "Wednesday," which is good enough for us...
Thursday:
Morrissey - I Have Forgiven Jesus
Mozza takes a leaf out of Robert Smith's book by listing the days of the week in his heart-wrenching ballad. But, arguably one of the most striking mentions in his mournful middle 8 is "Thursday is pathetic," which is of course shortly followed "By Friday, life has killed me". Morrissey clearly didn't get the memo about the week getting better as you go along, did he?
Friday:
The Cure - Friday I'm In Love
Robert Smith may have referred to it as "just a dumb pop song," but his 1992 track has been keeping Friday night dancefloors filled for almost 26 years. And just incase you were wondering... yes it was released on a Friday! Marketing at its finest...
Saturday:
David Bowie - Drive-In Saturday
When it comes to Saturdays, there's a bevy of tunes to choose from, but there's nothing quite as nostalgic as Bowie's doo-wap-inspired Drive-In Saturday. The 1973 Aladdin Sane ditty might sound pretty, but it actually tells the story of the inhabitants of a post-apocalyptic world who've forgotten how to make love and need to get their cues from old porn films. Tyical Bowie, eh?
Sunday:
The Velvet Underground - Sunday Morning
U2's Sunday Bloody Sunday, Morrissey's Everyday is Like Sunday, Blondie's Sunday Girl and Blur's Sunday Sunday are all absolute corkers. But is there anything that gives you the Sunday vibes better than The Velvet Underground's Sunday Morning? The opening track on their seminal album, The Velvet Underground & Nico, s an absolute classic and has no doubt been played during plenty of mornings after the night before.