Was There A Banned "Rude" Episode Of Rainbow?
1 October 2018, 15:06 | Updated: 1 October 2018, 15:11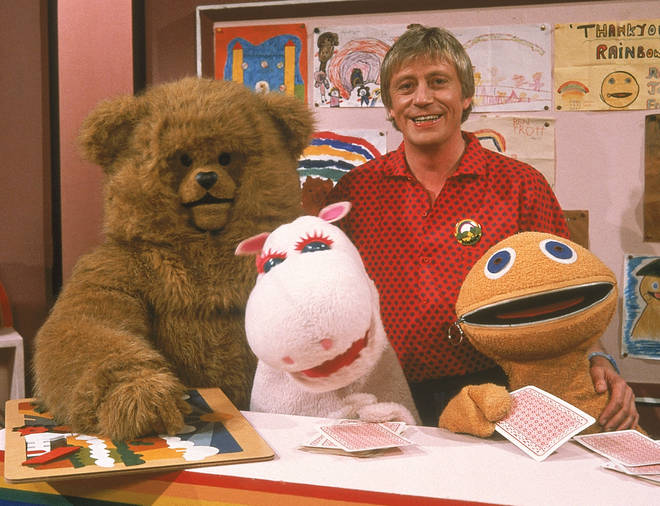 Following the sad death of childrens' presenter Geoffrey Hayes, let's look at one of the most infamous "banned" TV episodes of all time…
We were saddened to hear of the death of Geoffrey Hayes, the TV presenter who fronted the classic lunchtime kids show Rainbow from 1974 to 1993. Geoffrey was an island of sanity in a household that played host to Bungle, George and Zippy.
But memories of Hayes and his affable TV personality led us to come across this old internet oddity. Now only available in a grungy, virtually unwatchable upload, this is a peculiar episode of the much-loved pre-school programme in which virtually every line has some lewd meaning.
George, the gentle hippo announces:" Yesterday we played with each other's balls. Are we going to play with our friend's balls today?" To which Bungle replies: "Yes, and we can play with our twangers as well."
Geoffrey then turns to the camera and asks: "Have you seen Bungle's twanger?" Zippy replies: "Oh I have, I showed him how to pluck with it."
And so on. The sequence gets even ruder with the arrival of Rainbow's in-house musical trio Rod Jane and Roger, who lead the team in a ditty called "The Plucking Song".
Was it aired? Was it a pilot episode that remained in the vaults? Of course it wasn't. The whole thing was a joke. A very, very rude - and private - joke.
Back in the late 1970s, a regular tradition in television circles was the "Christmas Tape". This was a compilation of outtakes, bloopers and specially shot material (usually with a more adult tone than usual) designed to be watched at Christmas parties.
As the tape rolled and a few drinks and snacks went down, the people who worked at the TV stations would see presenters drop their guard and even send themselves up for the amusement of their co-workers.
The BBC were old hands at this, even giving theirs titles: "White Powder Christmas" and "Good King Memorex". And TV legend Doctor Who even got in on the act.
The tapes became so well known in the industry that presenters and actors would yell "Merry Christmas VT!" when they cocked something up, as they knew they could be destined for the dreaded Christmas Tape.
Other, independent broadcasters got in on the act. The Rainbow clip dates from 1979 and was, as Geoffrey Hayes recalled, part of Thames Television's bid to win the best Christmas tape of the year. The vulgar script was written by none other than Roy Skelton, the voice of Zippy and George, and also known for voicing the Daleks in the 1970s. We can honestly say that the Rainbow team upped the ante that year.
Hayes explained to a Rainbow fan site: "Ours wasn't an outtake, we specially did it. It was specially scripted and we did it and I never saw it! We did it and Thames won it, but what they actually won, I don't know. But I never saw the video. I can't remember much about it except for Zippy with a banana."
If nothing else, the infamous Rainbow clip is testament to Geoffrey Hayes' comic genius, that he can deliver such blatant innuendos completely straight-faced. He was and remains a TV legend.