5 Songs You Didn't Realise Nile Rodgers Was Involved With
19 September 2016, 11:49 | Updated: 19 September 2016, 11:57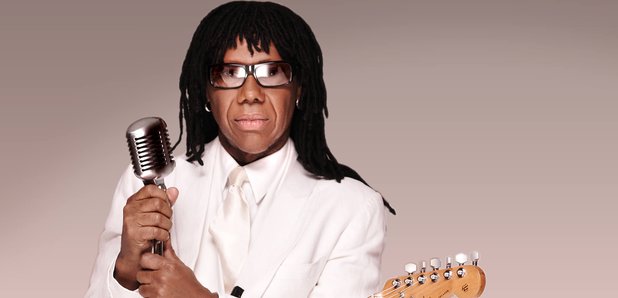 The master funk guitarist and producer is 64 today - and while he was the mastermind behind Chic, there are a number of other great tracks that he brought The Funk to….
Along with his musical partner Bernard Edwards, Nile Rodgers was the mastermind behind Chic, the disco-dancefloor machine of the late-70s. After countless hits with his own group, Rodgers branched out into production, bringing his unique feel for "the groove" to dozens of other records. And you'll be surprised at some of the songs that he's had a hand in…
David Bowie - Let's Dance (1983)
Niles seemed like an unlikely choice to produce a Bowie album, following the steely-cold futurism of the "Berlin Trilogy" with Brian Eno, but David was looking for a new, commercial sound and Rodgers had the golden touch. When faced with a song called "Let's Dance", Niles felt duty-bound to make this one a dancefloor killer… and he didn't disappoint.
INXS - Original Sin (1983)
The Aussie band's breakthrough hit in the US was the lead single from their 1984 album The Swing. It was recorded in New York with Rodgers and saw singer Michael Hutchence line-up against American superstar Daryl Hall (of …And Oates fame).
Duran Duran - The Wild Boys (1984)
Rodgers had previously worked with the British teen heart-throbs when remixing their single The Reflex, but for their October 1984 single, he did the whole business. Rodgers would go on to work with the band on their 1986 album, Notorious.
Madonna - Like A Virgin (1984)
Madge had modest success with her debut album, but it was this second outing with Rodgers in the driving seat that saw her become a superstar. Rodgers played guitar on the album, while his Chic colleague Bernard Edwards played bass, giving the songs an authentic dancefloor groove. The title track, Dress You Up and Material Girl all have the Rodgers touch, but surprisingly Into The Groove wasn't onbe of his.
The B52s - Roam (1989)
This wistful ditty was one of the highlights of the Athens, Georgia retro-fetishists's 1989 album Cosmic Thing. But surprisingly, Rodgers didn't produce its other his, Love Shack, which was the handiwork of Don Was.