Did Prince Give Us One Of The Best BRITs Moments Ever?
21 February 2018, 06:00 | Updated: 21 February 2018, 11:45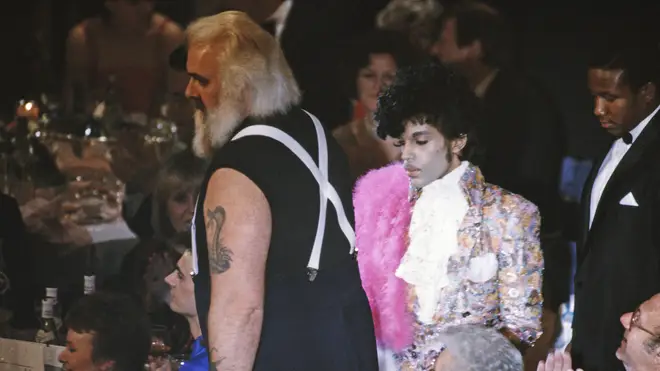 Ever seen The Purple One and his ENORMOUS bodyguard, heading up to get an award at the 1985 event? Wow.
In February 1985, Prince was perhaps THE biggest artist on the planet. Forget Michael Jackson, the diminutive musician was riding high with the success of his Purple Rain album and film. 
At that year's BRIT Awards, the Purple One won the Best International Artist and Best Soundtrack awards. And when he stepped up to accept the gongs onstage at the Grosvenor House Hotel in London, he was accompanied by someone.
No, not his band The Revolution, but his bodyguard, Charles "Big Chick" Huntsberry.
Big Chick was 6 foot 8 compared to Prince's teeny 5'3" and the sight of them weaving their way through through the crowd - not once but TWICE - was startlingly hilarious. 
Here's the moment he gets the gong for Purple Rain, presented by musical stars Elaine Paige and Barbara Dickson (of I Know Him So Well Fame), under the watchful eye of host Noel Edmonds - courtesy of @BBCArchive
Who was going to "mob" Prince on the way to the stage at a black tie music industry event? The audience looked on in amazement.
The musican stunned the room with his short, mumbled acceptance speech: "I'm not really a big talker, but it's nice to know someone so far away loves you so much.
"All thanks 2 God… Um, good night."
Bless him.But that wasn't an isolated incident - when His Purpleness rocked up at the American Music Awards a week earlier to pick up three awards - trashing such titans as Jacko, Tina Turner and Lionel Richie in the process. Enjoy the wonder:
Prince/Sheila E. January.28.1985 American Music Awards