Gareth Southgate: 10 Things You Should Know
11 July 2018, 18:11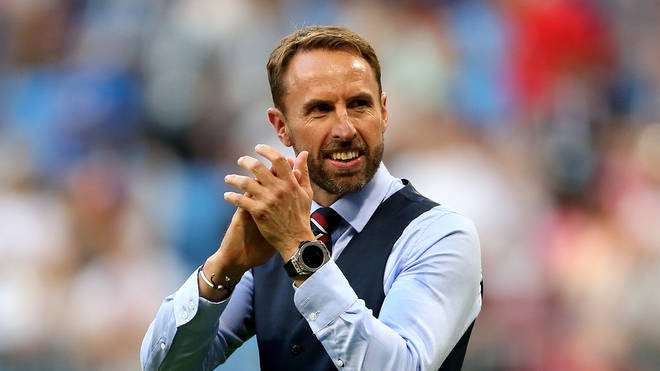 As England face Croatia in the FIFA World Cup 2018, we look back at the life and career of their beloved manager.
Gareth Southgate has become the nation's hero for steering England through the World Cup with patience and humility, while singlehandedly bringing waistcoats back into fashion.
But how much do you know about the England skipper? Get our facts about the manager here:
Gareth Southgate is from Watford, Hertfordshire

Gareth Southgate arrives at Repino Cronwell Park.

Picture: Owen Humphreys/PA Wire/PA Images

He was born on 3 September 1970

Aston Villa's Gareth Southgate holds up his first cap for England in 1996.

Picture: Adam Butler/PA Archive/PA Images

He also attended Hazelwick School in Crawley, West Sussex.

He has been married to his wife Alison since 1997, and they have two children.

Gareth Southgate hugs wife Alison.

Picture: Christian Charisius/DPA/PA Images

Southgate began his career at Crystal Palace in 1988

Gareth Southgate plays for Crystal Palace against Peterborough United in 1994.

Picture: Steve Morton/EMPICS Sport

He began playing in the position of right-back before moving to central midfield. In 1993-94 he led the team to win the First Division as their captain.

His nickname at Crystal Palace was "Nord"

Dennis Norden and Gareth Southgate.

Picture: Ian West/PA Archive/PA Images & Aaron Chown/PA Wire/PA Images

Apparently, the name was given to him because his precise way of speaking reminded one of the coaches of English comedy writer and TV presenter Dennis Norden.

He played for Aston Villa from 1995-2001 and Middlesborough from 2001-2006

Gareth Southgate plays for Aston Villa in 1995.

Picture: Neal Simpson/EMPICS Sport

He moved to Villa for a now MEASLY £2.5 million, having made 152 appearances over four seasons.

Southgate then signed for The Boro for £6.5 million fee.

He began his career as a manager in 2006

Gareth Southgate as Middlesborough manager in 2006.

Picture: Andrew Milligan/PA Archive/PA Images

Southgate was given his first gaffer role at his beloved 'Boro in June 2006.

2013-2016 saw him helm the Under-21 England team before he was put in temporary charge of the senior team when Sam Allardyce resigned due to a well-documented scandal.

Southgate was then appointed as England manager on a four year contract on 30 November 2016.

His mum gave him very useful advice THAT missed his Euro '96 penalty

Gareth Southgate dejected after failing to score in the penalty shoot out which ended England's Euro '96 bid.

Picture: PA/PA Archive/PA Images

If it wasn't bad enough that the whole nation was criticising his penalty against Germany, as The Sun reports, Southgate's mum even had a few sage words of advice after the event, asking why didn't you just belt it?

He was in this cheesy 1996 Pizza Hut advert shortly after

It wasn't bad enough that he'd let down the hopes of the entire nation, so he decided to send himself up on a Pizza Hut advert too.

Luckily he was in good company, with fellow penalty flunkers Stuart Pearce and Chris Waddle in on the joke with him.

He couldn't listen to Three Lions for 20 years

Gareth Southgate has now revealed that he found it so difficult to cope with his missed penalty that he couldn't listen to Three Lions for 20 years.

Speaking to Sky News, the ex-footballer said: "Football's coming home, I couldn't listen to it for 20 years, frankly. It has a slightly different feel for me, but it's nice to hear people enjoying it again.

"I would just walk out of the room. It is an anthem and has followed the team for a long time, but involved some difficult moments as well.

"I don't stick it on, it's not on the playlist, but I can listen to it now."

Southgate added: "That ended in disappointment and it is nice to be able to put a different frame on it now."
See Ross Kemp's incredible reaction to England's success: