St. Patrick's Day: The best Irish rock songs
17 March 2022, 10:52 | Updated: 17 March 2022, 11:09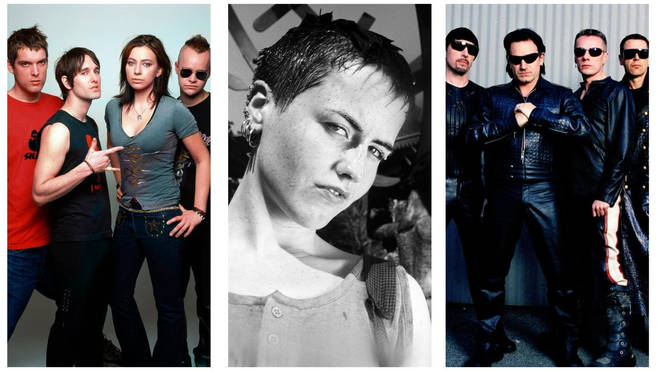 Celebrate St Patrick's Day with a selection of great songs from the Emerald Isle: from Ash to U2.
U2 - Even Better Than The Real Thing

Which song to pick from the U2 pantheon? Here's something from the game-changing Achtung Baby album, released in 1991.

The Undertones - Teenage Kicks

Derry's Undertones released this punk classic as their debut 7" in October 1978. John Peel named it as his favourite song ever ever ever.

Hozier - Take Me To Church

Andrew Hozier-Byrne is the latest superstar to hail from Ireland - Bray in County Wicklow, to be exact.

Ash - Girl From Mars

Formed in Downpatrick in 1992, the power trio of Tim Wheeler, Mark Hamilton and Rick McMurray were a quartet for a time, thanks to the extra guitar of Charlotte Hatherley, This 1996 favourite is taken from their first full length album 1977.

The Thrills - Big Sur

The fondly-remembered band from Dublin sounded more LA than Ireland, but here's one of our favourites.

The Cranberries - Zombie

Featuring the much-missed Dolores O'Riordan, The Cranberries hailed from Limerick. Their most famous song, Zombie, was a powerfully emotional response to the IRA's bombing of Warrington town centre in 1993.

Dermot Kennedy - Giants

Hailing from Rathcoole, County Dublin, Kennedy made a splash in 2018 with his single Power Over Me, but it was his 2020 track Giants that topped the Irish charts.

The Divine Comedy - Something For The Weekend

Frontman Neil Hannon hailed from Derry, while the band themselves were based out of Enniskillen in County Fermanagh, Northern Ireland. A great, witty tune that opened 1996's Casanova album.

Damien Rice - Cannonball

Hailing from Celbridge, County Kildare, Ireland, this is Rice's most famous song, taken from his 2002 album O.

Sultans Of Ping FC - Where's Me Jumper?

If you recall this insane ditty, you obviously spent too long in indie discos in the early 1990s.

Thin Lizzy - Whiskey In The Jar

Phil Lynott may have been born in Staffordshire, but he grew up in Dublin, which is where he met drummer Brian Downey and formed Thin Lizzy in the early 1970s. Here's their take on the traditional Irish folk song. Rocked up, of course.

The Pogues - Dirty Old Town

There's more to The Pogues than that Christmas hit. Frontman Shane MacGowan was an original punk and the band brought that genre's energy to traditional Gaelic music. Dirty Old Town was written by Ewan MacColl (father of Kirsty) about Salford, but as The Dubliners had covered it, The Pogues produced their own unique version.

Snow Patrol - Set The Fire To The Third Bar

Most of the band are from Northern Ireland, but they met in Scotland. So let's have them on the list.

Stiff Little Fingers - Alternative Ulster

As kids growing up in Belfast during The Troubles, SLF used punk as a way of expressing their concerns. This is their classic hit.

The Boomtown Rats - I Don't Like Mondays

With most of its members hailing from Dún Laoghaire, County Dublin, the Boomtown Rats were fronted by the charismatic Bob Geldof and soon found themselves part of the punk scene in London. They grew out of the narrow genre of three-chord thrash and scored two consecutive UK No 1 hits: Rat Trap and I Don't Like Mondays.

JJ72 - Oxygen

This Dublin post-Britpow band released two albums in the early 2000s, before splitting in 2006. Their biggest hit was Oxygen.

Fontaines D.C. - Boys In The Better Land

The Dublin post-bunkers formed in 2017 and will release their third album Skinty Fia in April 2022.

Picture This - One Night

Hailing from Athy, County Kildare, Picture This have notched up two No 1 albums in the Irish chart since they got together in 2015. Their biggest hit in their homeland has been One Night, from 2019.

Inhaler - It Won't Always Be Like This

Born into Irish rock royalty, Inhaler frontman Elijah Hewson is the son of Bono from U2. Despite the famous father, the band have crafted an excellent debut album, It Won't Always Be Like This, which topped the charts both in the UK and back home.

Kodaline - High Hopes

Coming from Swords in the county of Fingal, Kodaline were originally known as 21 Demands and participated in an Irish talent show on TV. After becoming the first independent band to top the Irish charts, the group changed their name to Kodaline and released the single High Hopes in March 2013. Since then, they've released four albums, the latest of which is 2020's One Day At A Time.