The Greatest Ever Onstage Putdowns
6 February 2017, 11:44 | Updated: 23 February 2017, 19:10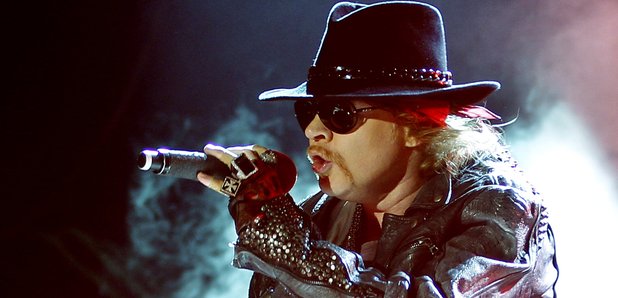 Let's take a look at the times when musicians onstage have a frank exchange of views with their fans, the powers that be, the rest of the world... and sometimes themselves. WARNING: VERY STRONG LANGUAGE.
AXL ROSE TAKES SECURITY TO TASK. RIOT ENSUES.
We could be here all night discussing the ructions between the Guns N'Roses singer and his band, his audience, "The Man", well… just about anyone and anything, really. But here's one that turned into a full-blown riot. At a show in St Louis in 1991 on the Use Your Illusion Tour, Rose took exception to an unauthorised photographer in the audience. When the bouncers failed to remove the amateur snapper, Rose dived into the crowd to sort it out himself. Returning to the stage, he flounced: "Well, thanks to the lame-ass security, I'm going home!" The show ended and the audience decided to riot.
DAVE GROHL LAYS DOWN THE LAW.
At 2011's iTunes Festival, the Foo Fighters frontman became a hero to the nation when he stopped the show mid-set after a ruckus broke out in the mosh-pit. "You don't fucking fight at my shows, asshole!" said The Grohlmeister, before he had the pugilist ejected from the stately environs of The Roundhouse. *Applauds*.
NOEL GALLAGHER: WHO THE F**K IS LIAM?
An unwary Oasis fan hecked our man Noel at a solo show in Cork, Ireland in July 2015. "Where's Liam?" the would-be wit yelled, only to be verbally slapped down by the musician. "He's at home looking at himself in the mirror," he retorted.
QUEENS OF THE STONE AGE: WHY DID HE THROW SOMETHING AT JOSH? NO ONE KNOWS.
At the Norwegian Wood festival in Oslo in 2008, an enthusiastic punter threw something at the QOTSA frontman. Josh Homme stopped the gig and demanded VENGEANCE, unleashing a torrent of dubious invective at the terrified kid. "I may have a 102-degree temperature and have been puking for three days," said Homme, "but I'll still butt-fuck you in front of your friends." Lawyers breathed a sigh of relief when he didn't follow through on his promise, but the incident was rather perturbing and was later blamed on "a high fever".
KINGS OF LEON THINK YOU'RE NOT FEELING IT TONIGHT.
When the Kings headlined Reading Festival in 2009, it seemed like the climax of an amazing twelve months for the boys from Nashville, fuelled by the huge success of the album Only By The Night and its spin off single Sex On Fire. However, the patrons of the festival did not agree, according to singer Caleb Followill. Obviously aggrieved by something, he took a lengthy pause between songs and confessed that he was "trying not to say anything negative". "Thank y'all for inviting us," he said, with a disbelieving shake of the head. "We hope it warms up… because we need it."
OASIS HAVE A FRANK EXCHANGE OF VIEWS PART 769.
There are many Gallagher flounces, but we kind of like this one for aesthetic and musical reasons. Taken from the second of the band's massive shows at Maine Road in Manchester back in 1996, it would appear that Noel likes the crowd to kick off the sing-song on Whatever. Liam, however, has different ideas. Cue flounce. Noel finishes the song. Repeat until 2009.
BADLY DRAWN BOY DOESN'T LIKE TOO MUCH "WOOF".
Hey, you know, if you're, like, a musician, you know, you want to sound GOOD. Especially if you're performing at a high-profile show at the Troubadour club in Los Angeles. So if there's too much WOOF coming from your onstage monitors, you're bound to get a bit pouty, like Damon Gough. You know?
GREEN DAY DON'T LIKE TO BE RUSHED.
Things were not good for Billie Joe Armstrong of Green Day in September 2012, when he checked into rehab. It followed an on stage meltdown at the iHeartRadio Festival in Las Vegas, where the singer launched into an expletive-filled rant, complete with climactic guitar smashing when the band were told they only had one minute left on stage. The band later released a statement: "We regretfully must postpone some of our upcoming promotional appearances." In other words, wake him up when September ends.
COURTNEY LOVE: DON'T MENTION NIRVANA.
So, apparently, waving a photo of Kurt Cobain at Courtney Love while she tries to play a show with her band Hole is a bit... off-putting. Especially during the song Honey, which is an emotional moment for the widow of the grunge legend. "Go see the fucking Foo Fighters and do that shit," yelped Lady Love when an enthusiastic Brazilian fan did just that. Oops.
IRON MAIDEN: STOP TEXTING AND PAY ATTENTION TO THE ROCK.
As the Maiden tore into Wasted Years at a show in Indianapolis in July 2012, frontman Bruce Dickinson finally snapped: "For fuck's sake, the guy with the bald head and the white shirt... you've been texting for the last fucking three songs. You're a wanker!"
MEGADETH WOULD LIKE TO POINT OUT SOMETHING.
Woodstock 99 was not the best of gigs. The whole thing ended in a very un-peace loving riot. Maybe all the bad feeling kicked off when Megadeth's Dave Mustaine decided to call out a member of the audience who was shining a laser pointer at his face. Handbags!