5 Things You Should Know About BABYMETAL
1 September 2016, 17:44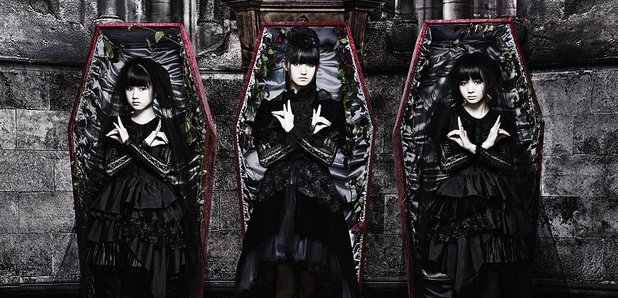 They may be supporting the Red Hot Chili Peppers on their UK tour, but the trio are megastars in their own right.
BABYMETAL were recently announced as the support act for Red Hot Chili Peppers' upcoming UK Tour.
And, while the Dark Necessities band promise they'll make you "dance like a wildebeest," most Chili Peppers fans can be forgiven for not quite knowing who they are.
Well, you needn't have worried, because we do, and we've given you short guide to the trio, just in time for RHCP's UK tour.
Find out about the trio below:
1. Babymetal are made up of of three Japanese teenagers
The J-pop idol-meets-metal band formed back in 2010 and are comprised of:
Suzuka Nakamoto (Su-metal)
Yui Mizunoand (Yuimetal)...
And Moa Kikuchi (Moametal),
2. They have a combined age of 52
Lead vocalist Nakamota is 18, while Mizunoand and Kikuchi are only 17.
3. They look and

sound like this:

Masterminded, by their creator and producer, Kobametal, the girls had never heard of the genre before joining the band. However, they've gone on to release two huge albums, 2014's self titled LP and 2016's Metal Resistance.

With their Battle Royale-meets-goth wardrobe and butter-wouldn't-melt looks, the ladies and their Kami Band - who dress in white robes and makeup on the stage - make for a striking and hypnotic live act.

For an idea of their live performances, watch their epic Gimme Chocolate video, which has over 58 million YouTube videos to-date:
4. Their name is a play on words:
Baby actually rhymes with heavy in Japanese, so the name Babymetal is a rather nifty pun, which is a nod to the 'heavy metal' music genre as well as their age.
5. They've filled stadiums, are huge on the festival circuit and have some VERY famous fans
Metal music fans really got behind the kick-ass trio and the industry has followed suit, welcoming them with open, sweaty arms.
Heard of Slipknot, Metallica, Bring Me The Horizon, and Panic! At The Disco? Well, these are just a few of the famous names that are fans of the band.
Good to see you @PanicAtTheDisco ! #サマソ二 #summersonic#TOKYODOME #東京ドーム #BABYMETAL #PanicAtTheDisco pic.twitter.com/ZAsL7FXEJ0

— BABYMETAL (@BABYMETAL_JAPAN) August 22, 2016
#BABYMETAL @BABYMETAL_JAPAN & #Slipknot @slipknot at #DownloadFestival @DownloadFest ! pic.twitter.com/Vh3U7AD9Jw

— BABYMETAL (@BABYMETAL_JAPAN) June 14, 2015
The trio have also played Download Festival, wowed crowds at Reading and Leeds, and shared the stage with the likes of Dragon Force and Judas Priest.
We appreciate "METAL GOD" Rob Halford @judaspriest ! Never forget,forever! New legend was born! #APMAS #BABYMETAL pic.twitter.com/xQKv33Iuc7

— BABYMETAL (@BABYMETAL_JAPAN) July 19, 2016
Plus, in 2015, they took home a Kerrang! Award for the Spirit of Independence, and returned in 2016 to win the gong for Best Live Band.
Bring Me The Horizon @bmthofficial & BABYMETAL @BABYMETAL_JAPAN at #relentlesskerrangawards @KerrangMagazine Awards! pic.twitter.com/lwhXj3zTVL

— BABYMETAL (@BABYMETAL_JAPAN) June 11, 2015
Not too shabby.
Metal definitely isn't for everyone, but when mixed with the positive lyrics and warp-speed dance routines of J-pop, it is undeniably catchy.
Like dipping your fries in milkshake, it shouldn't work, but for some reason it really, really does.
So, basically, it looks like Red Hot Chili Peppers have left their fans in some very capable (and synchronized) hands.