21 Things To Look Forward To In The Second Half Of 2016
1 July 2016, 06:00 | Updated: 1 July 2016, 10:28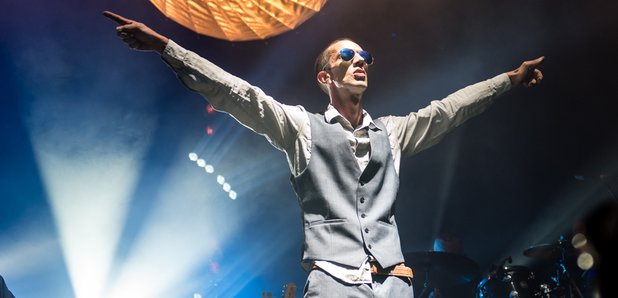 2016 has been a bit of a stinker so far… We've lost Bowie, we've lost Prince and the world is a confusing and difficult place to be at the moment. But fear not, there is much to look forward to before the year is out, from big gigs and big movies to some great album releases.
It's taken nearly 16 years, but FINALLY the Aussie DJ collective have made a follow-up to the near-legendary debut Since I Left You. Titled Wildflower, it "drops" (as they say) on 8 July.
The next big festival happens at Strathallen Castle between 8 and 10 July - T In The Park. None other than The Stone Roses and Red Hot Chili Peppers are headlining, while there's also music from LCD Soundsystem, Catfish And The Bottlemen, The 1975, Kaiser Chiefs, Courteeners and more.

3. 'Mon The Biff (The Next Phase)
Album number seven for Biffy Clyro is titled Ellipsis and arrives on 8 July. If the lead tracks Wolves Of Winter and Animal Style are anything to go by, this is going to be an impressive record.
One of the summer's finest festivals takes place in Southwold, Suffolk, between 14 and 17 July: The Maccabees, The National and New Order headline, while you can also see Chvrches, Augustines, Bear's Den, The Lumineers and many more.

Muse, Biffy Clyro, The Chemical Brothers, Bloc Party, The Maccabees and Catfish And The Bottlemen are just some of the many acts that will appear at the seaside festival in Spain between 14 and 17 July. It's one of the best line-ups this summer, full stop.

22 July sees the release of the acclaimed band's second album, Red Earth And Pouring Rain. With the trio now down to a duo, they'll be taking the new material out on town in November, with shows in Brighton, Birmingham, Glasgow, Manchester, Norwich, London and Brixton.
The annual celebration of music and partying takes place in the Lake District between 28 and 31 July. Noel Gallagher's High Flying Birds, The Charlatans, Rudimental and Madness have been confirmed as headliners, with Pete Doherty, Catfish And The Bottlemen, Everything Everything, Blossoms and tons more all there too.

There's lots of Noel to be had this summer, but one of the choice picks is his show at Lytham Green on 4 August 2016. It's a week-long series of shows and events in the North West town, just along the coast from Blackpool.


9. Blossoms, Well... Blossom
One of the most anticipated debut albums is released on 5 August as Stockport psychedelic rockers Blossoms unleash their first set of songs onto the world. The new single Charlemagne is an absolute tune, so we're really looking forward to this.
Well, you can - between 10 and 14 August down in Cornwall, when Boardmasters comes back to town. Performing at the 2016 festival are James Bay, Kaiser Chiefs, Wolf Alice and more...

11. The David Brent Movie
On 19 August, you'll be able to see the long-awaited moment when Ricky Gervais steps back into the shoes of the world's sleaziest boss. This time he's On The Road, with his band, playing some awful songs. We daren't look.
26 to 28 August sees us either head Readingwards or Leedswards for one of the biggest festivals of the year. There, we will stand in the glow of Foals, Red Hot Chili Peppers, Biffy Clyro, Two Door Cinema Club, The 1975 and tons more across the Bank Holiday weekend.

13. Bastille's Wild World Comes To Pass
You can't help but have noticed that Dan Smith and his crews have a new tune out - Good Grief. It had its live debut at Glastonbury the other weekend and it forms the advance guard for the hotly-anticipated second LP, Wild World. 9 September is the release date.
Amazing music in an amazing setting as Festival No 6 cranks up again over the weekend of 1 to 4 September with Noel Gallagher's High Flying Birds, Hot Chip and Bastille all headlining. It's a beautiful place and going to be very special.

Fresh from an incredible appearance at Glastonbury, the London foursome will perform in Margate alongside Bat For Lashes, Super Furry Animals, Wild Beasts, Mystery Jets and more across the weekend of 30 September and 1 October. Plus, enjoy the wonder of Dreamland Margate amusement park.
Made by the team behind the incredible Amy Winehouse and Ayrton Senna films, this is going to be as definitive as it gets. It's "BIBLICAL" says Liam. Due in October, but no firm release date yet.

There's a brand new one day festival taking place in Manchester on 8 October. Situated across ten venues across the fine, fine city, Circa Waves, Twin Atlantic, Kate Nash and more will all be performing.

He's back, guys. With an excellent new album, On My One, and a whole set of fresh songs and fresh sounds. He's a brilliant live performer and will be kicking things off in Manchester on 18 October, winding up at Cardiff University on 3 November.

Finally! After Morrissey had his say with 2013's Autobiography, it's time for his songwriting partner, musical journeyman and solo artiste Johnny Marr to tell his side of the story. Set The Boy Free reaches bookshops on 3 November. We can't wait.
Can you believe it's two bloody decades since the Northern Irish trio's debut album 1977 came out? They can't either, which is why they're heading out on tour this autumn for a celebratory series of shows, including London's Roundhouse on 11 December and the Manchester Ritz on 12 December.

2016 saw the former Verve frontman come back with an excellent new album, These People. The summer sees him taking the show out to those people (ha ha), with appearances at Liverpool Arena (7 December) and the O2 Arena in London (9 December). "I'm going to be performing with an orchestra," chortles Richard, "and you are going to hear all the classics from Lucky Man, Bitter Sweet Symphony, The Drugs Don't Work, Sonnet through my solo career. It should be an extravaganza."